Whether you need engagement captions for Instagram to announce your engagement on Instagram or because you want to prepare for the big moment, these engagement quotes and engagement Instagram captions will make sure you have the right thing to say for the perfect post.
Sayings about engagement and captions to announce your engagement can help you share the joy with the world on social media and beyond as you celebrate this incredibly exciting time in your life.
Whether you use a photo of the exact moment you got engaged or the rings themselves or another meaningful picture, these engagement Instagram quotes can be used however you want (don't forget to bookmark a few of them if you want options!)
1. The best thing to hold onto in life is each other.
2. The one where we got engaged.
3. Once you've found the right person, you just know.
4. We did it!
5. Engagement marks the end of a whirlwind romance and the beginning of an eternal love story.
6. Yes, today. Yes, tomorrow. Yes, for all the days of my life.
7. For the two of us, home isn't a place, it's a person. And we're finally home.
8. Remember tonight, for it is the beginning of always.
9. Check out my fiance!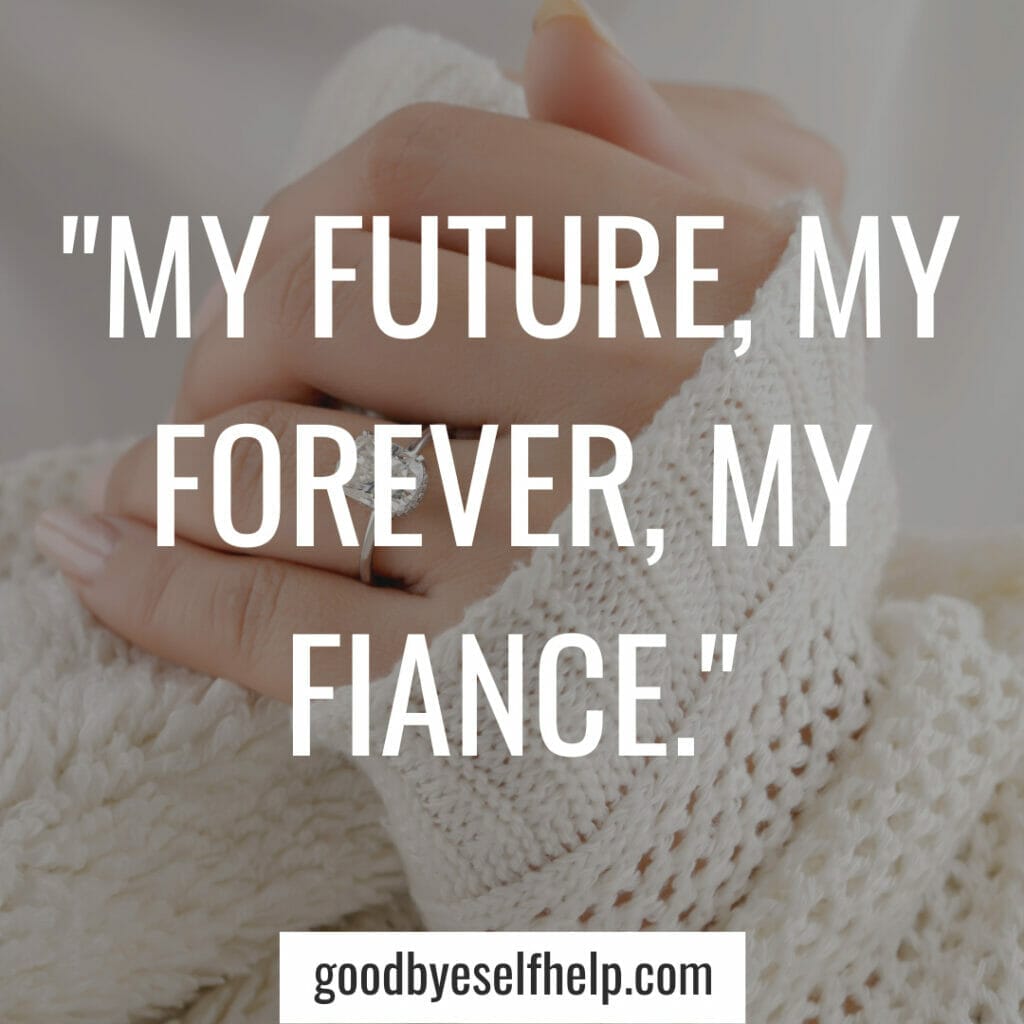 10. My future, my forever, my fiance.
11. He stole my heart, so I'm going to steal his last name.
12. Miss to mrs.
13. I said yes!
14. The best thing to hold onto in life is each other.
15. Every love story is beautiful, but ours is my favorite.
16. Our journey isn't perfect, but it's ours and I'll stick with you til the end.
17. You're my end and my beginning.
18. And I'd choose you in a hundred lifetimes, in a hundred worlds.
19. Happily ever after (soon!)
20. We're engaged!
21. Engagement vibes.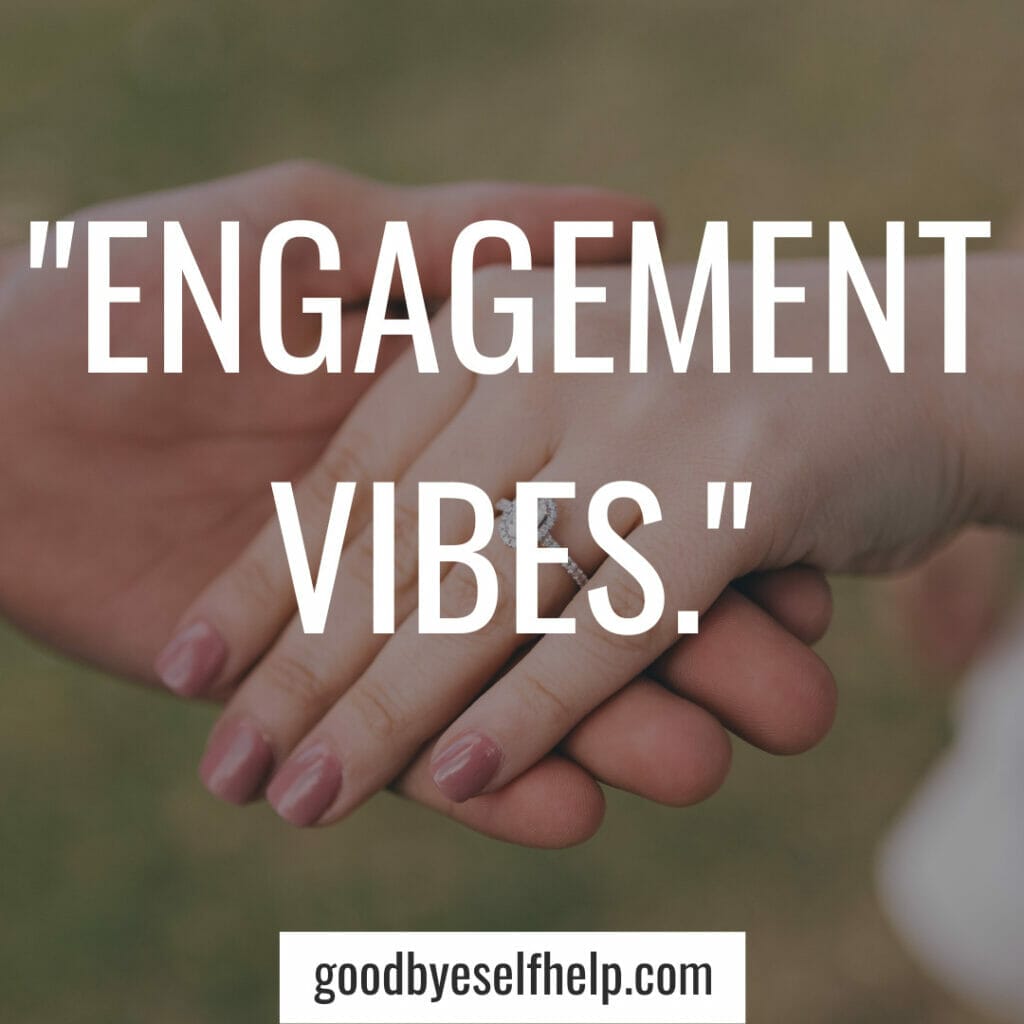 22. Look what we did!
23. Surprise! We're engaged!
24. I hereby choose you to be my forever Valentine.
25. Fastest "yes" I've ever said.
26. We're getting hitched!
27. Today starts the beginning of the rest of our lives.
28. We decided we wanted to spend the rest of our lives together.
29. Can't wait for our future!
30. Check out this ring on my finger!
31. Does this ring make me look engaged?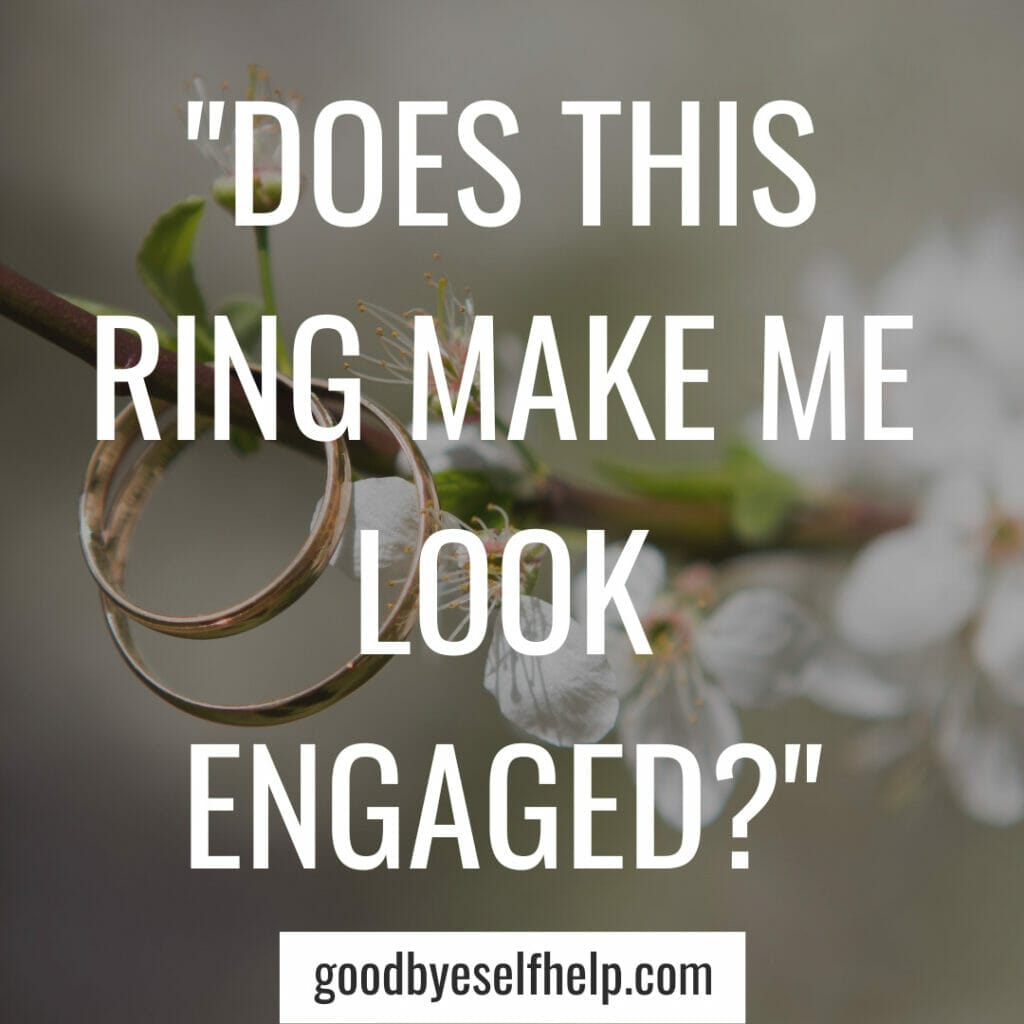 32. We go together like cake and icing.
33. Whatever our souls are made out of, his and mine are the same.
34. You had me at "will you marry me?"
35. Here begins the final chapter of our lives.
36. From this day forward, you will never walk alone.
37. I look at you, and I'm home.
38. Officially off the market.
39. When you realize you want to spend the rest of your life with somebody, you want the rest of your life to start as soon as possible.
40. The easiest "yes" I've ever said.
41. I found the one whom my soul love.
42. and now, to learn how to spell fiance.
43. Perfect ring for the perfect person.
44. Finally I got my special one whom I want to annoy for the rest of my life.
45. And darling, I will be loving you til we're 70.
46. Last night, the love of my life asked me to be hiw sife.
47. Days will come and go, but our loves will go on forever.
48. Check out my new favorite finger.
49. Love doesn't need to be perfect, it just needs to be true.
50. We have decided to step into a world of commitments, care, and eternal love.
51. An engagement ring is the ring of true love.
52. Finally…he put a ring on it!
53. All the single ladies…are not me anymore!
54. All that you are is all that I'll ever need.
55. We may have started as individuals, but now we are one.
56. Engagement vibes.
57. It's engagement day!
58. Living the engaged life.
59. So, like, we're engaged.
60. Mr and Future Mrs.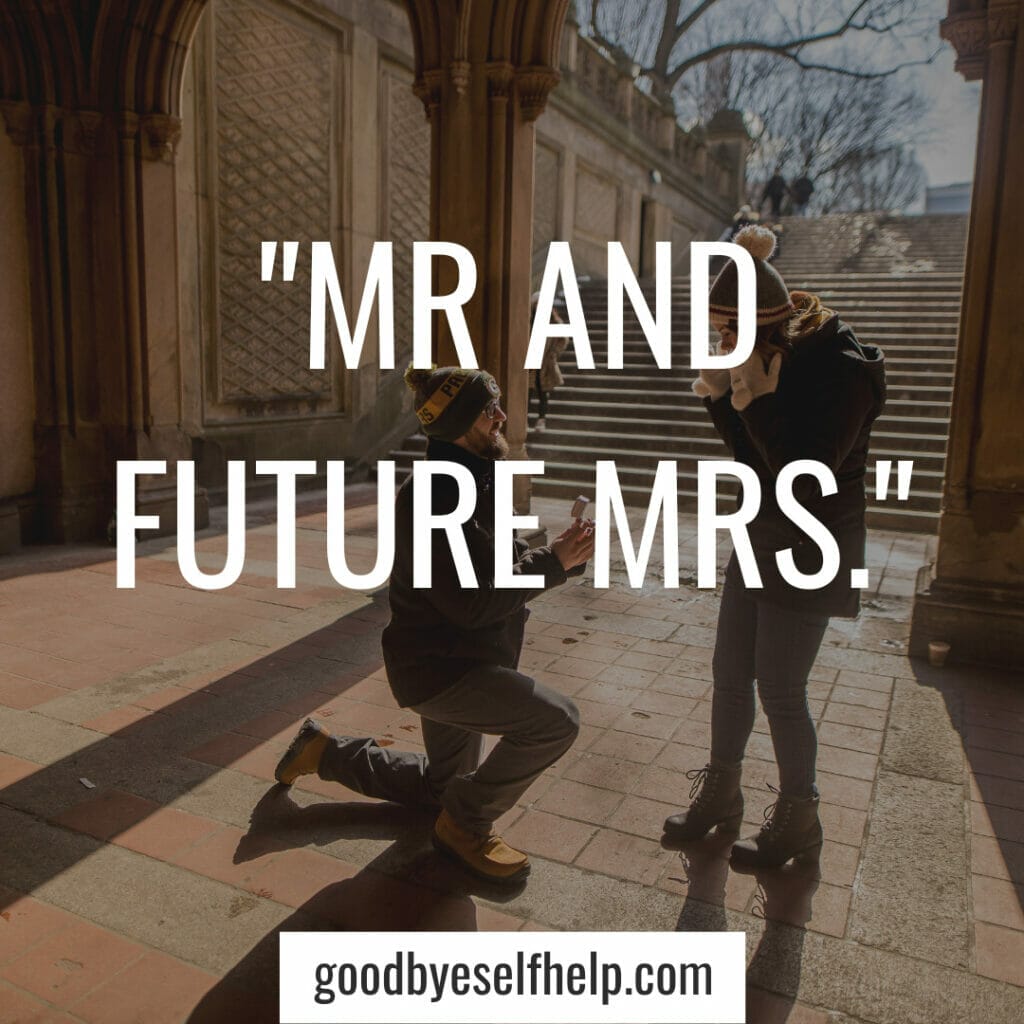 61. Engaged sure does have a ring to it.
62. It was a million tiny little things that, when you added them all up, they meant we were supposed to be together.
63. Happy engagement!
64. Oh my god, we're getting married!
65. I put a ring on it.
66. We've chosen to do our life together, forever.
67. Guess the wedding planning starts now!
68. You don't get engaged to someone you can live with – you marry the person you cannot live without.
69. Forever and always.
70. The engagement starts with us!
71. I will love you forever, my love.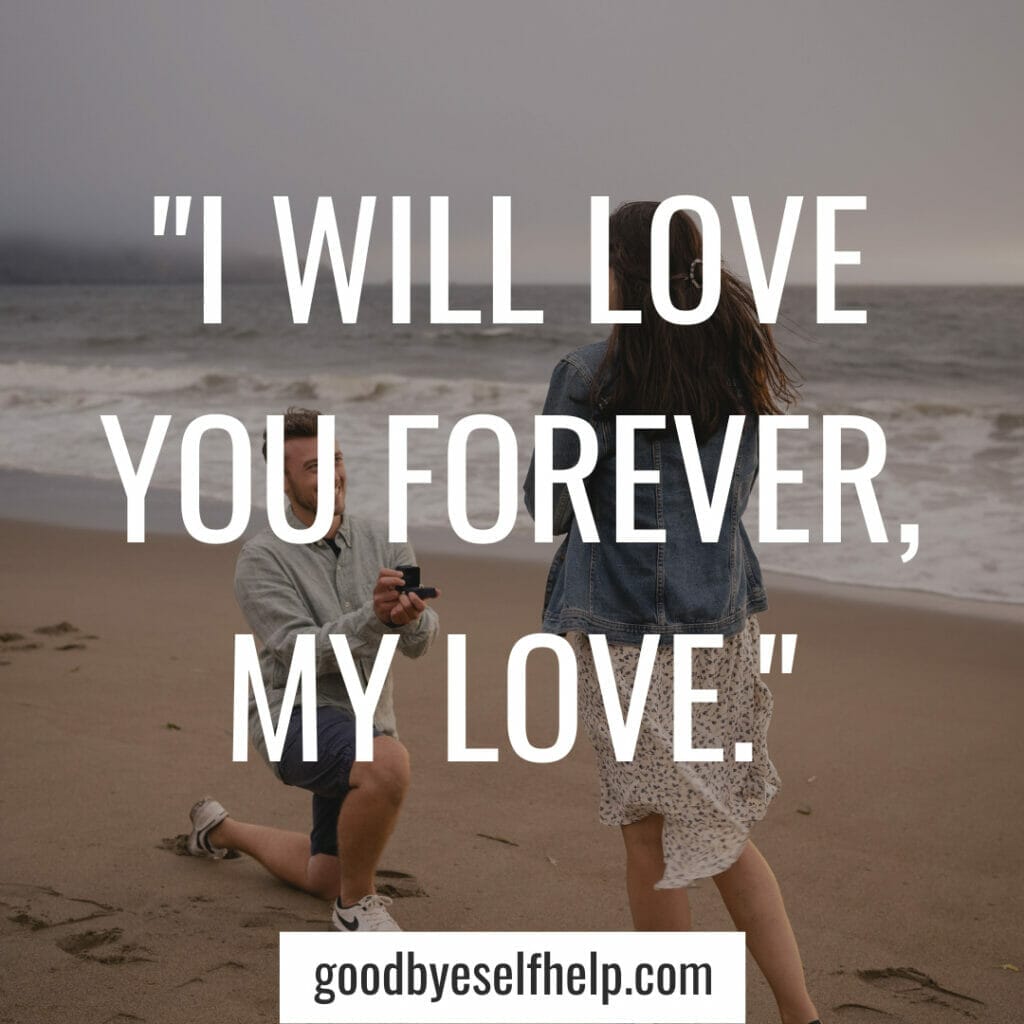 72. Groom and bride to be!
73. Engagement status: finally did it!
74. He asked, she said "about time!"
75. We are pleased to announce our engagement.
76. I want all of my lasts to be with you.
77. The wedding bells are about to ring.
78. Pop the bubbly, I'm getting a hubby.
79. So the adventure begins.
80. Off the market.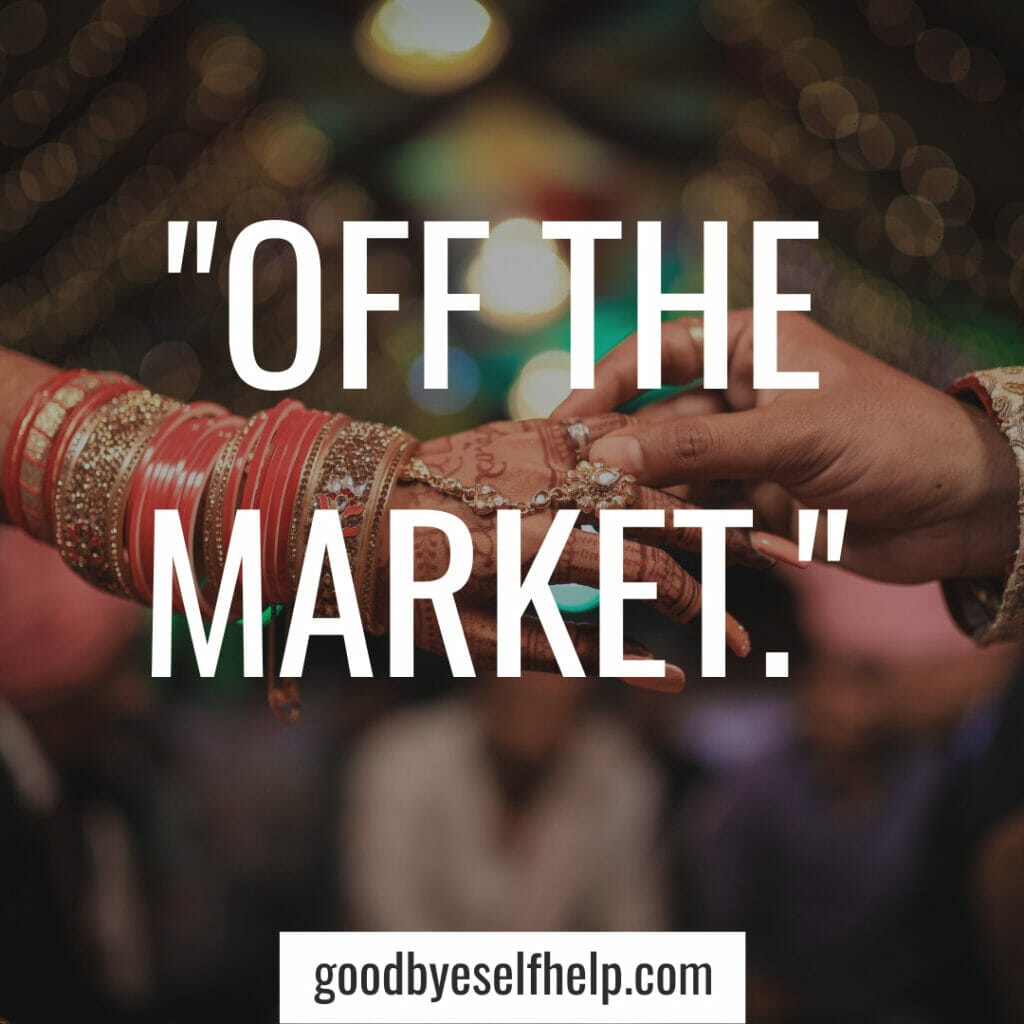 81. Happy engagement, my love!
82. I'll remember this day for the rest of my life.
83. We're about to take the plunge!
84. Engaged. Love. Laugh.
85. Congratulations on getting engaged! Now you'll be paying for two tickets to see one movie.
86. The rest of our life starts now.
87. So happy to share that we're engaged.
88. Engagement squad.
89. Engaged and ready to wedding plan.
90. Engaged and happy.
91. So happy. So engaged.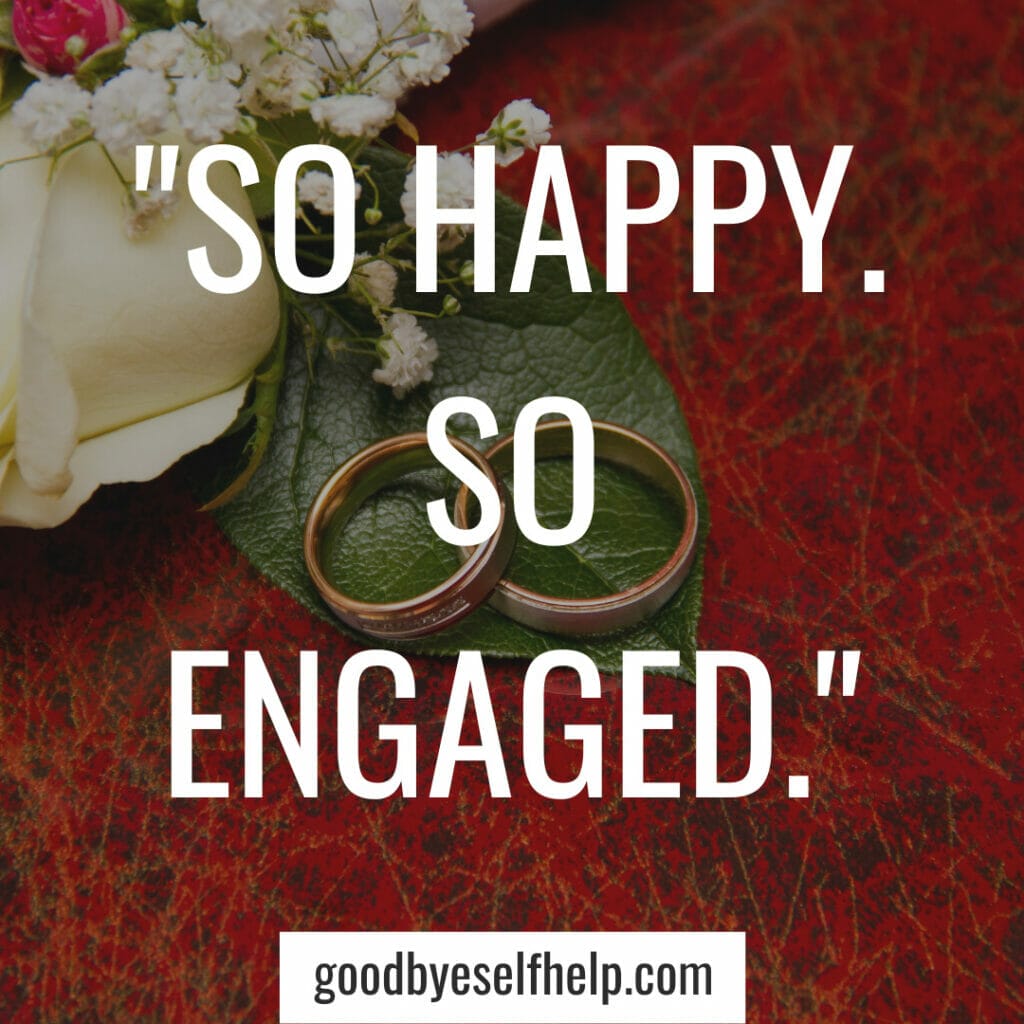 92. Can't wait for the wedding!
93. Already looking for a wedding dress!
94. I'll treasure you forever.
95. Here's to love, friendship, and a big party to celebrate our engagement.
96. Best. day. ever.
97. Trying out my first day as a fiance.
98. Can't stop smiling on my engagement day.
99. Engaged looks good on us.
100. Sorry, we can't help you, we're otherwise…engaged!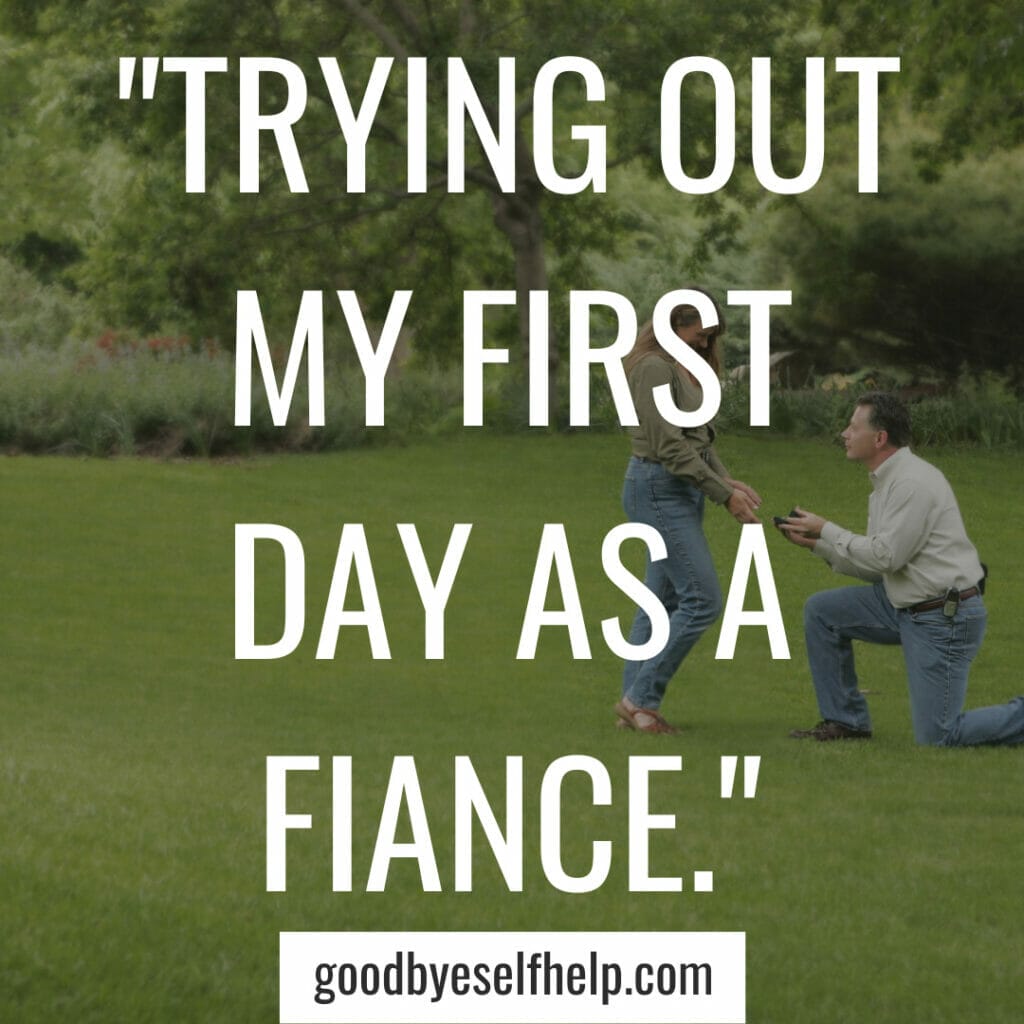 101. Engaged and overjoyed.
Looking for more Instagram caption guides? Check out all of our Instagram caption guides below!