Whether you're a ballerina or a hip hop dancer, these motivational dance quotes will inspire you to get up, get moving, and go after your dreams.
Dance is one of the most beautiful sports, made possible by tons of practice and training, and sometimes you need an inspiring dance quote to get you pumped up before practice or the big competition.
These positive quotes about dance range from quotes about working hard to achieve your dreams to quotes about how beautiful dance is, and they are perfect for posting above your mirror, dressing room door, or in your locker to remind you why you fell in love with the sport in the first place.
Dancers are special people, using their bodies to create art in beautiful and thrilling ways, and these inspirational quotes about dance are just what dancers and dance fans alike need to get them through the day!
1. "Dancers don't need wings to fly."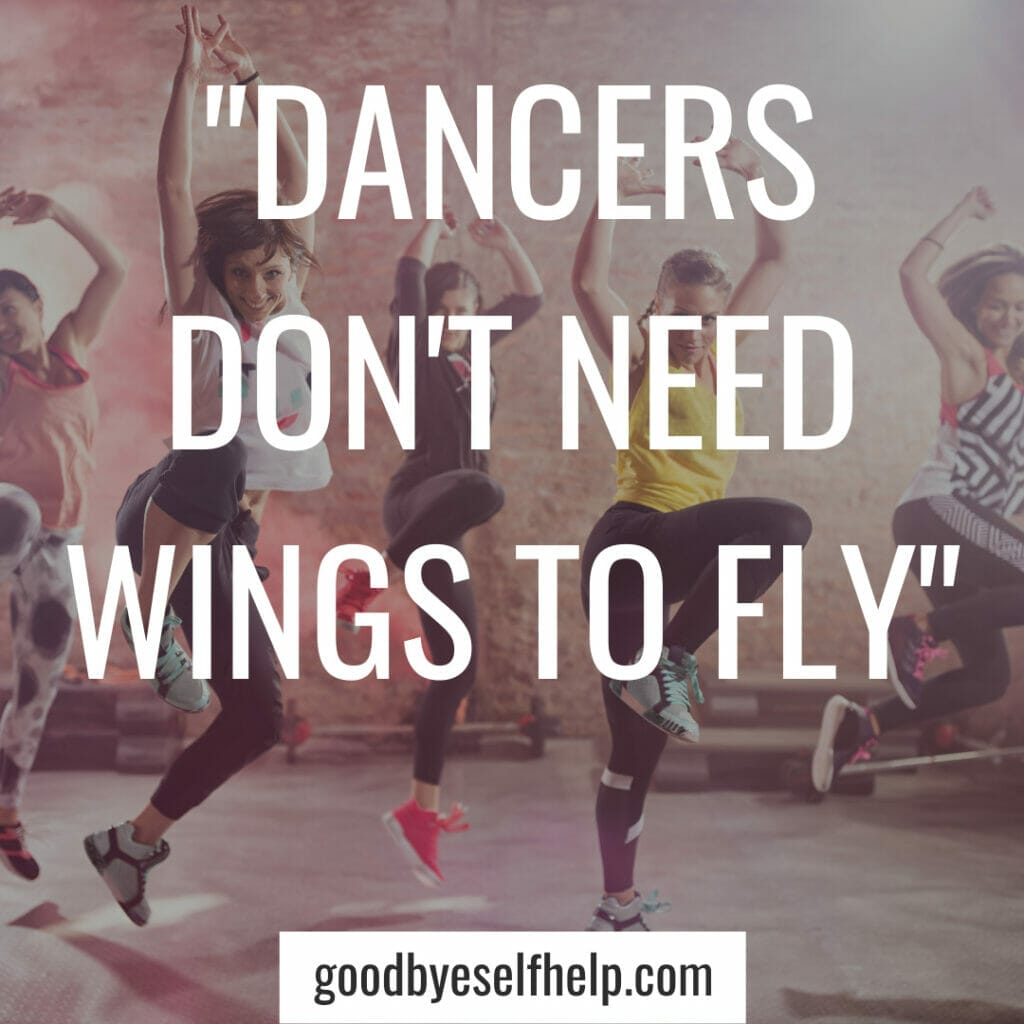 2. "Dance is the joy of movement and the heart of life"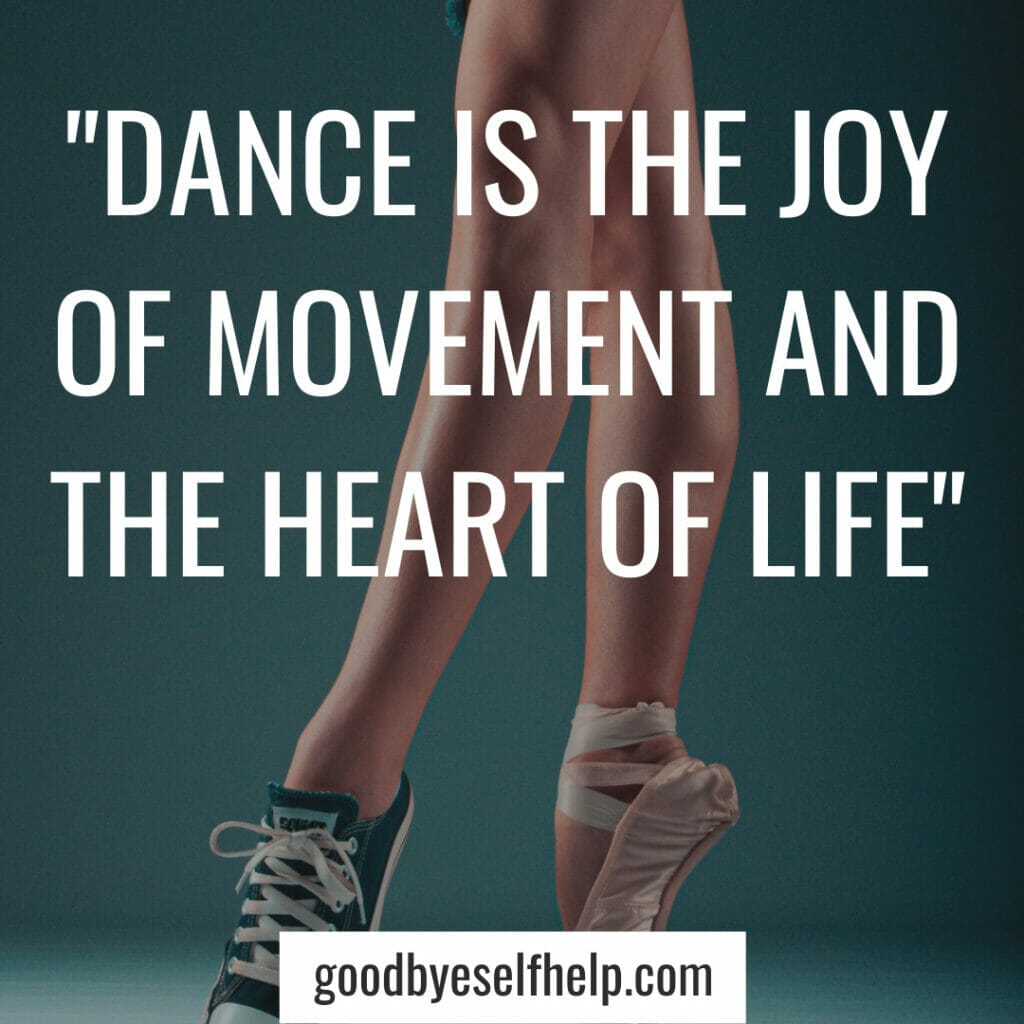 3. "To dance is to be out of yourself. Larger, more beautiful, more powerful."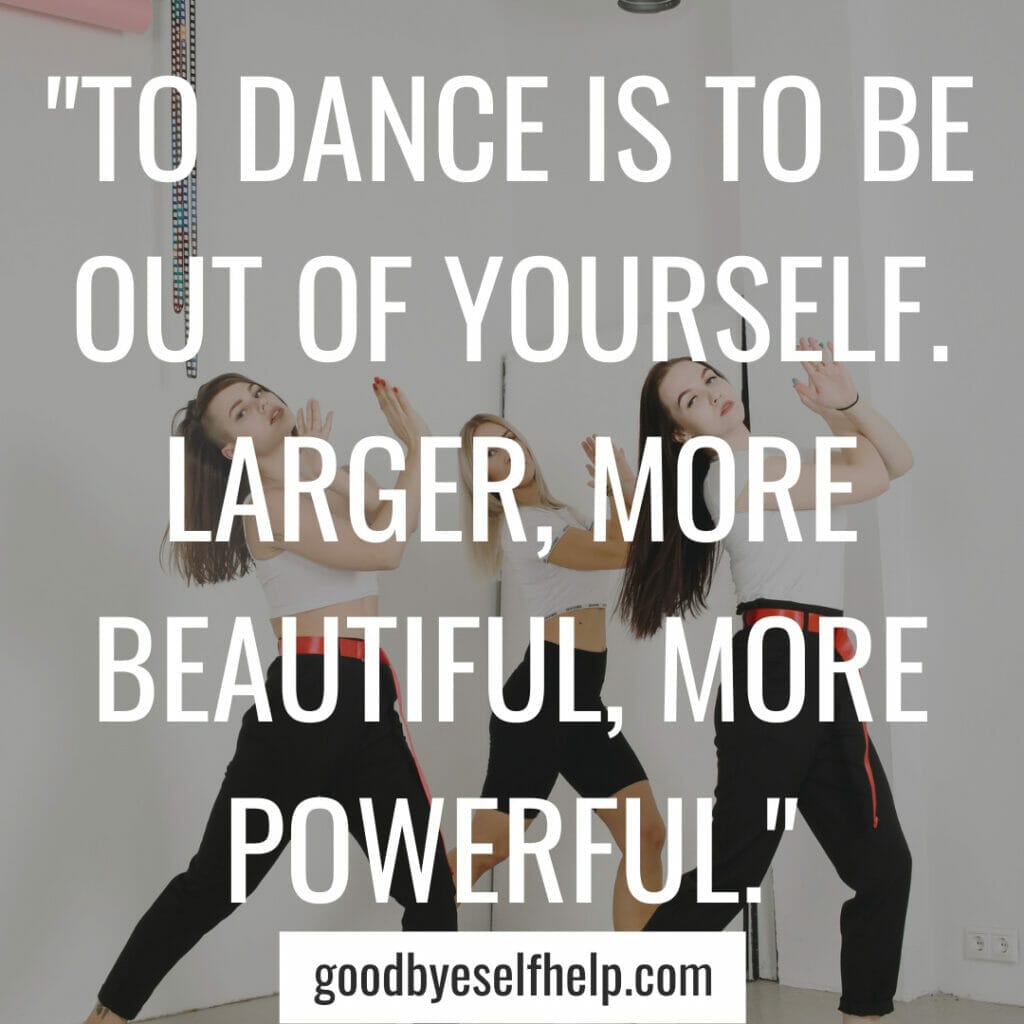 4. "Dance to express, not to impress."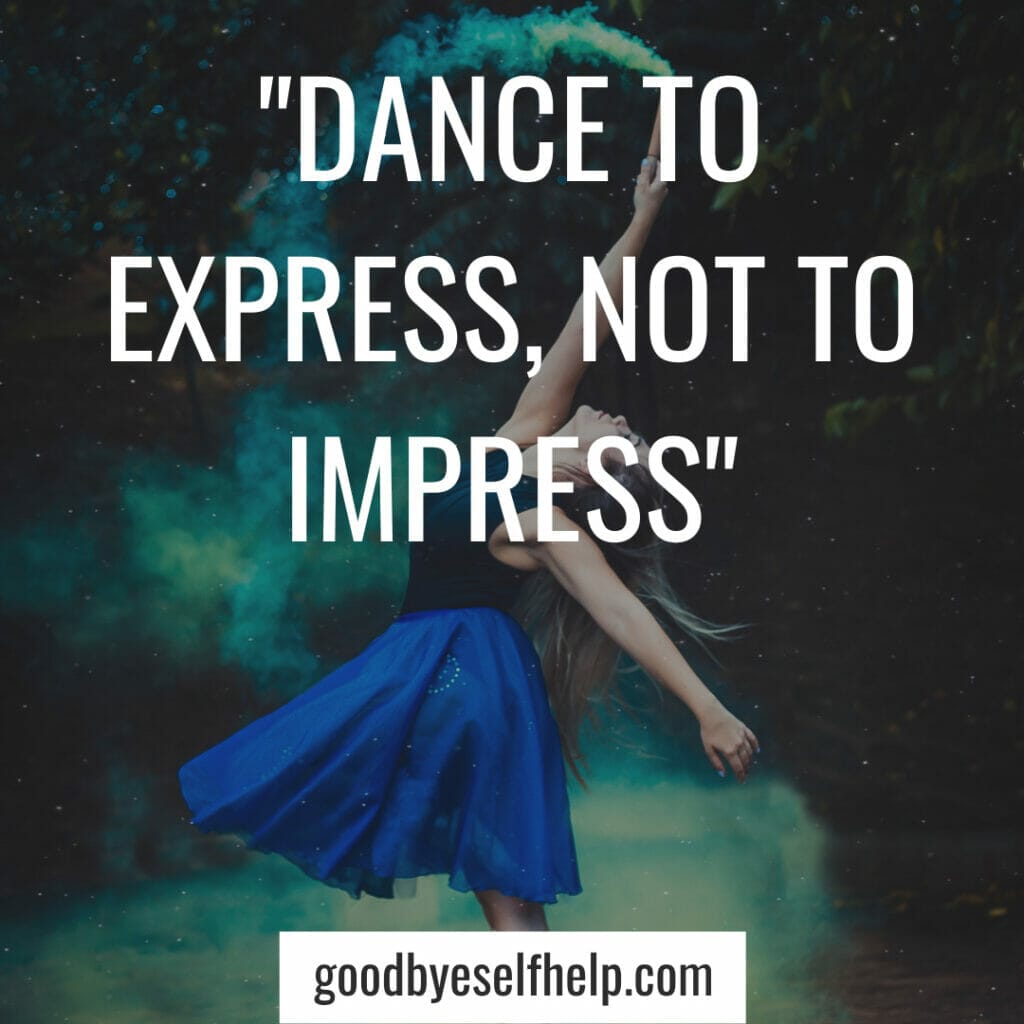 5. "Any kind of dancing is better than no dancing at all."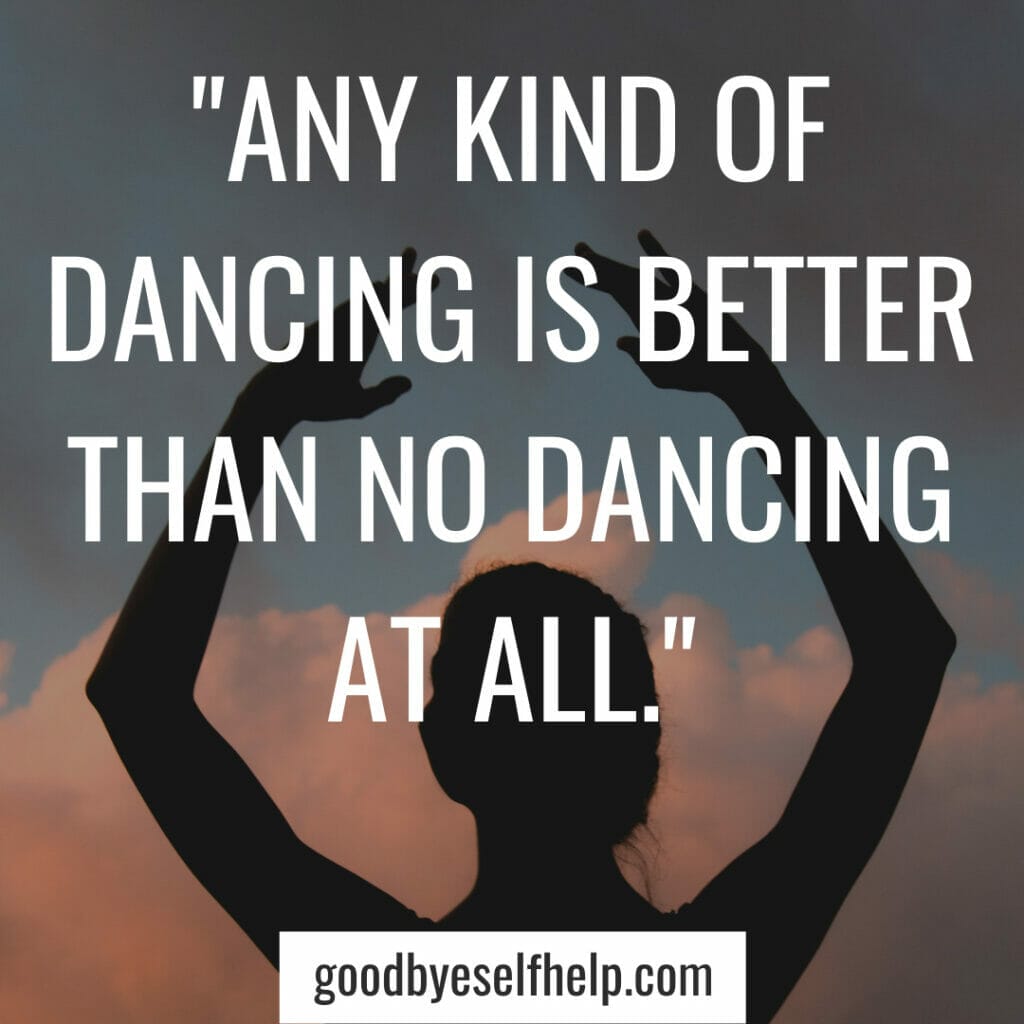 6. "You dance love, and you dance joy, and you dance dreams."
7. "Dancers are made, not born."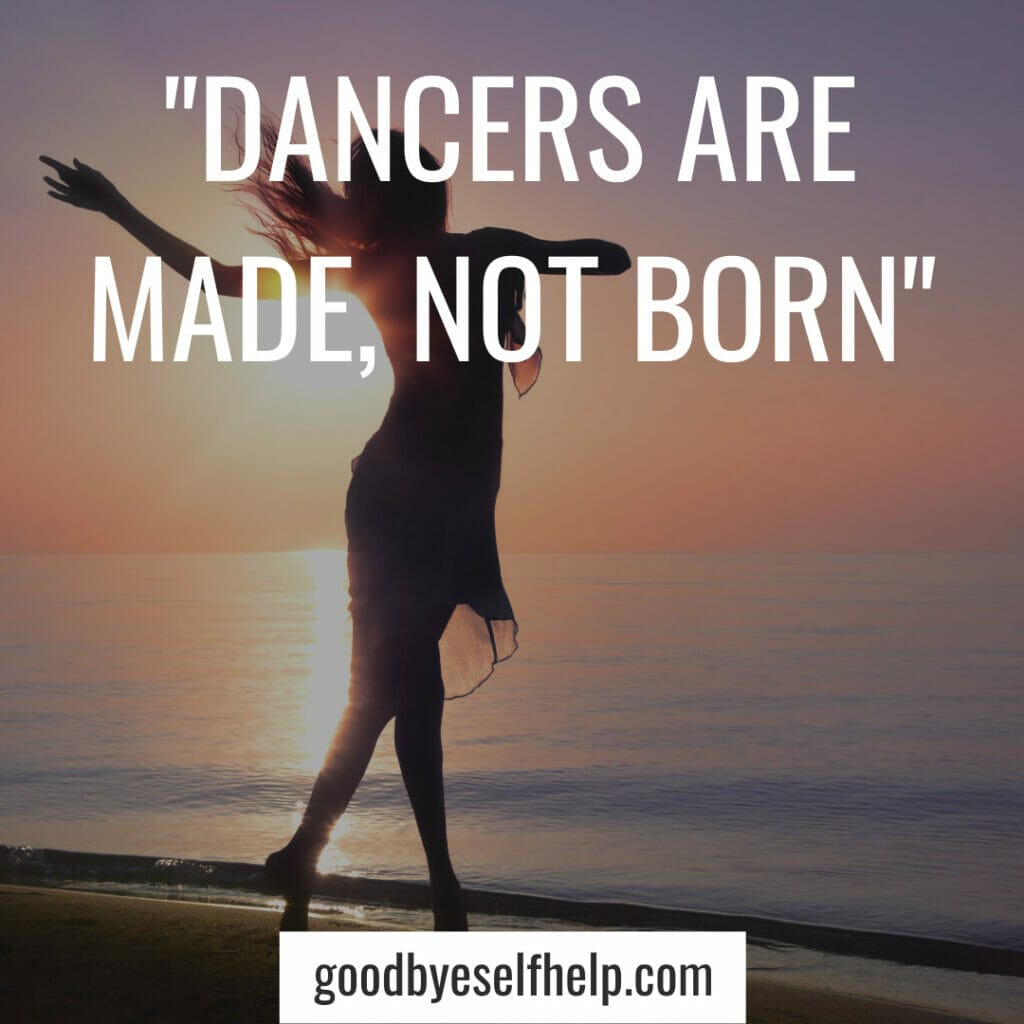 8. "Dance enables you to find yourself and lose yourself at the same time."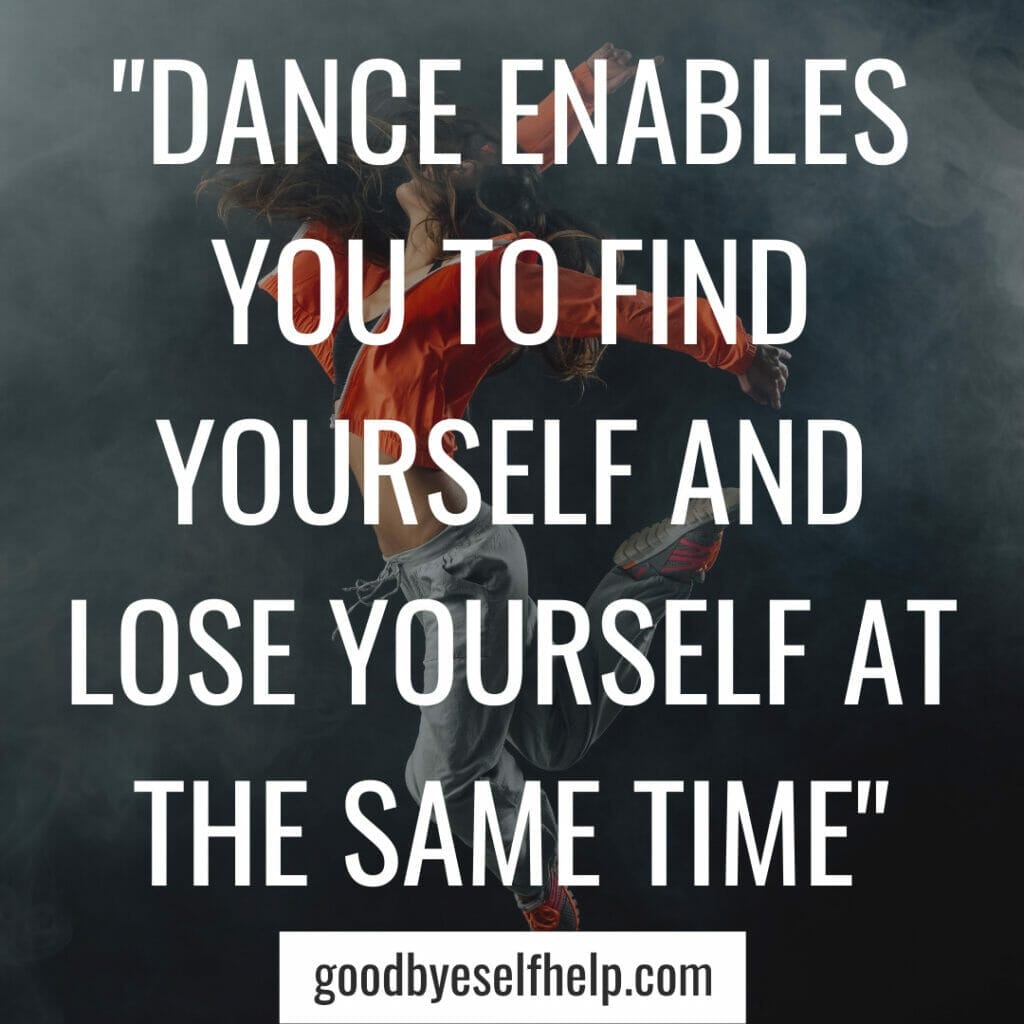 9. "I do not try to dance better than anyone else. I only try to dance better than myself."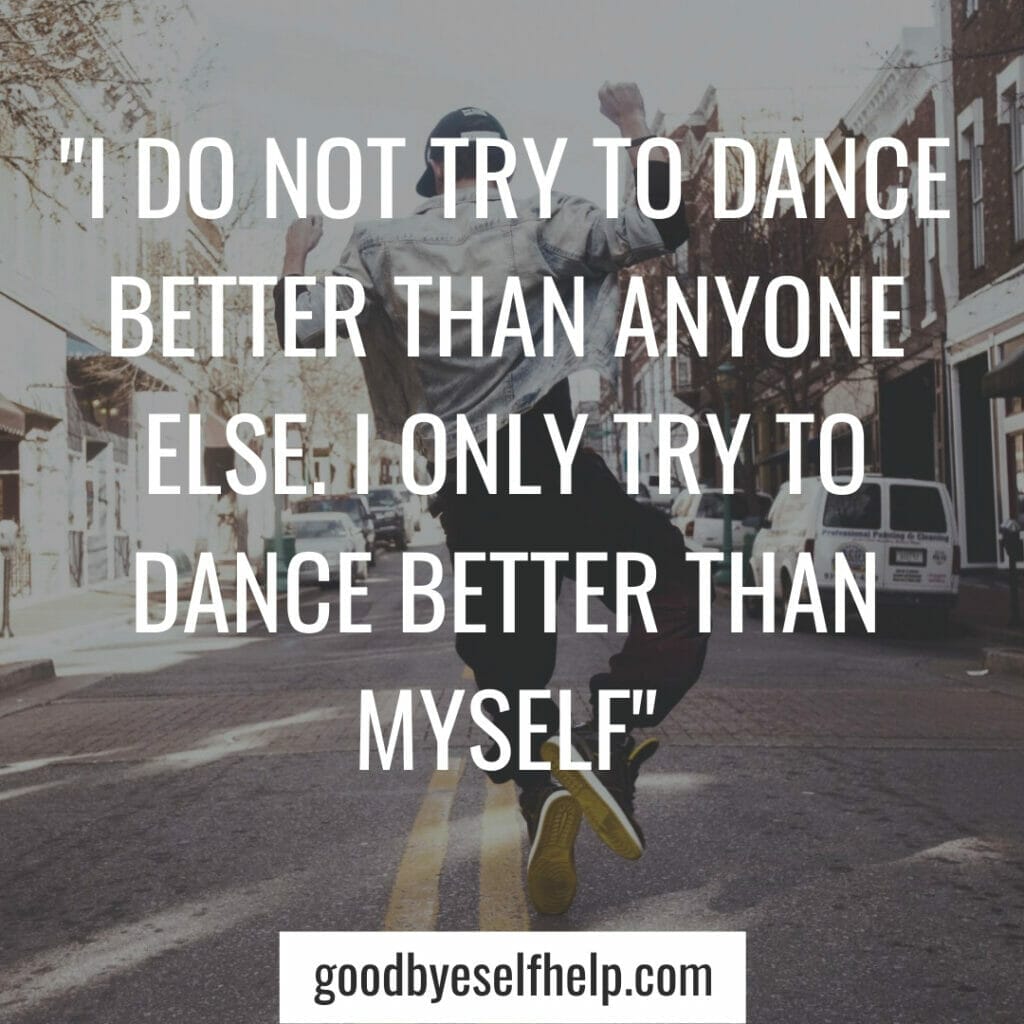 10. "If you stumble, make it part of the dance."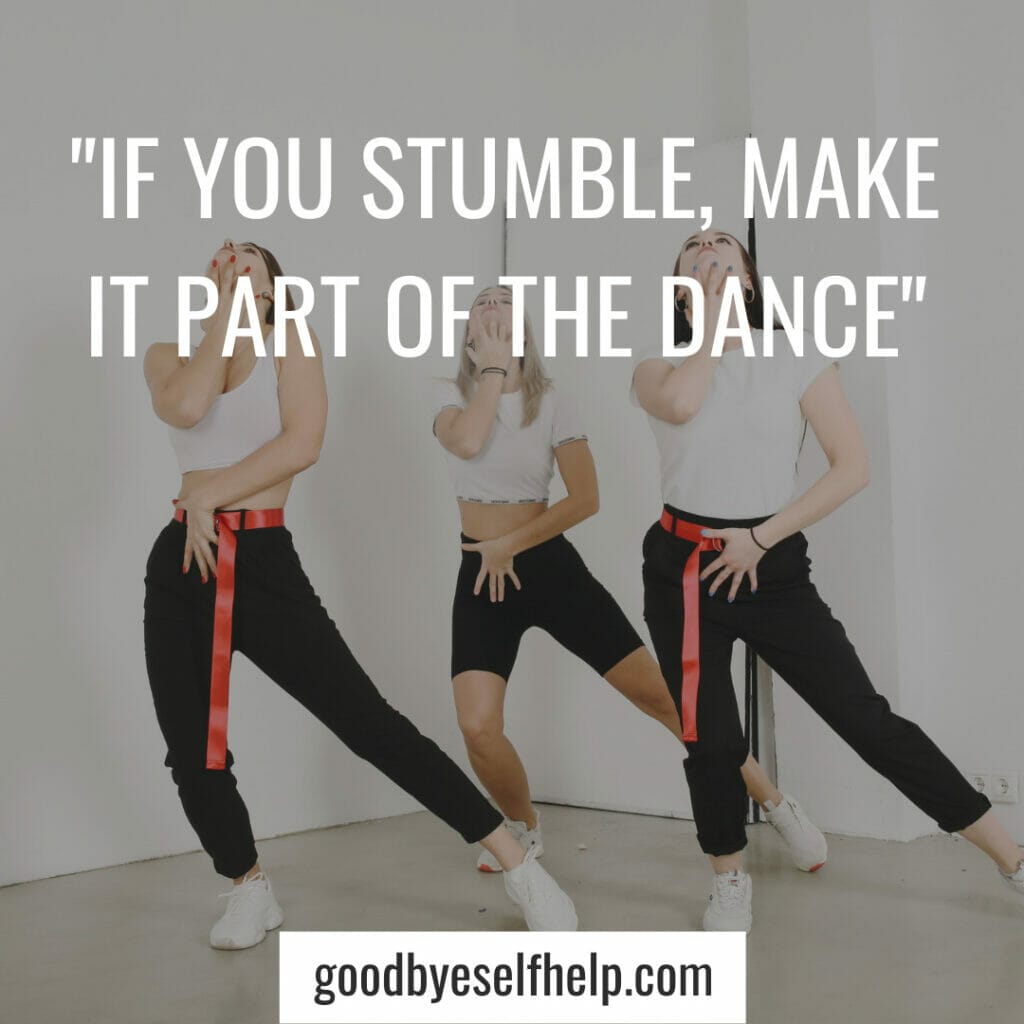 11. "Dance to your own rhythm"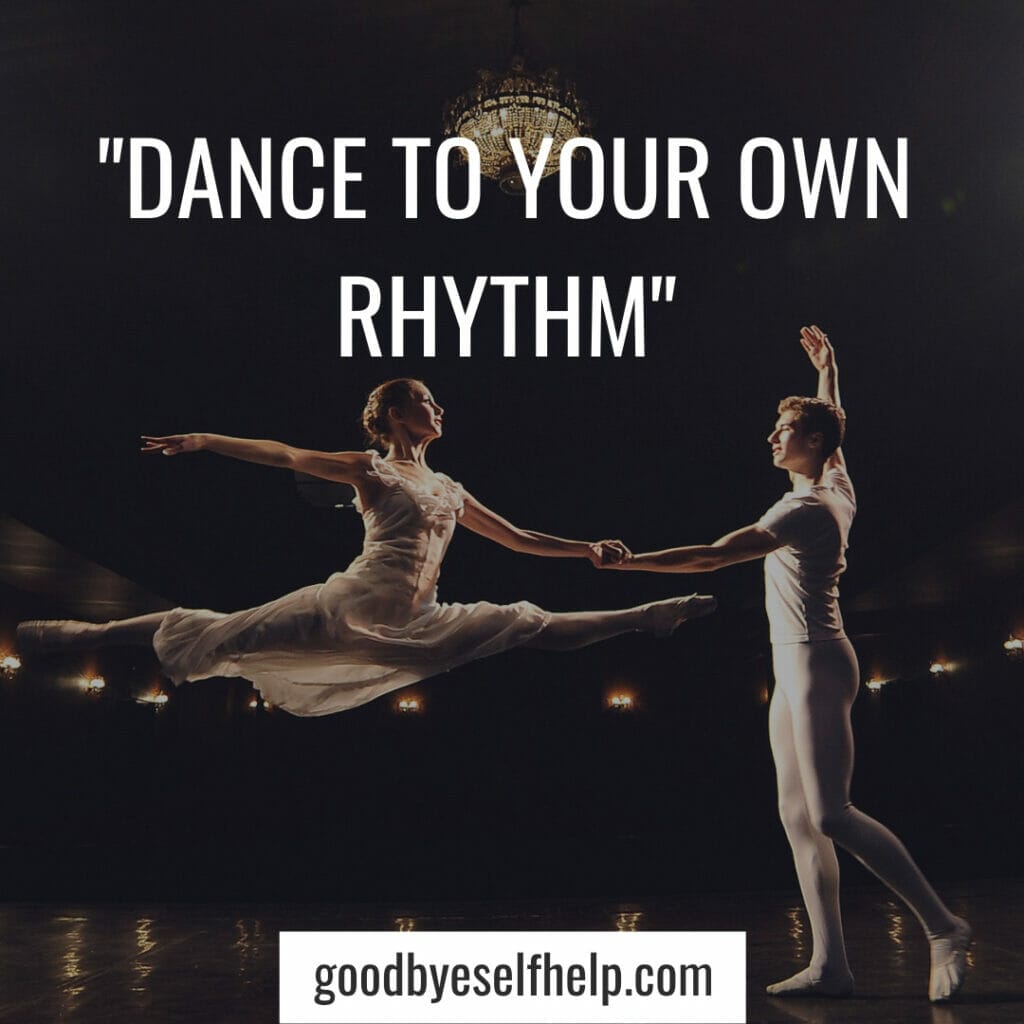 12. "There are shortcuts to happiness, and dancing is one of them."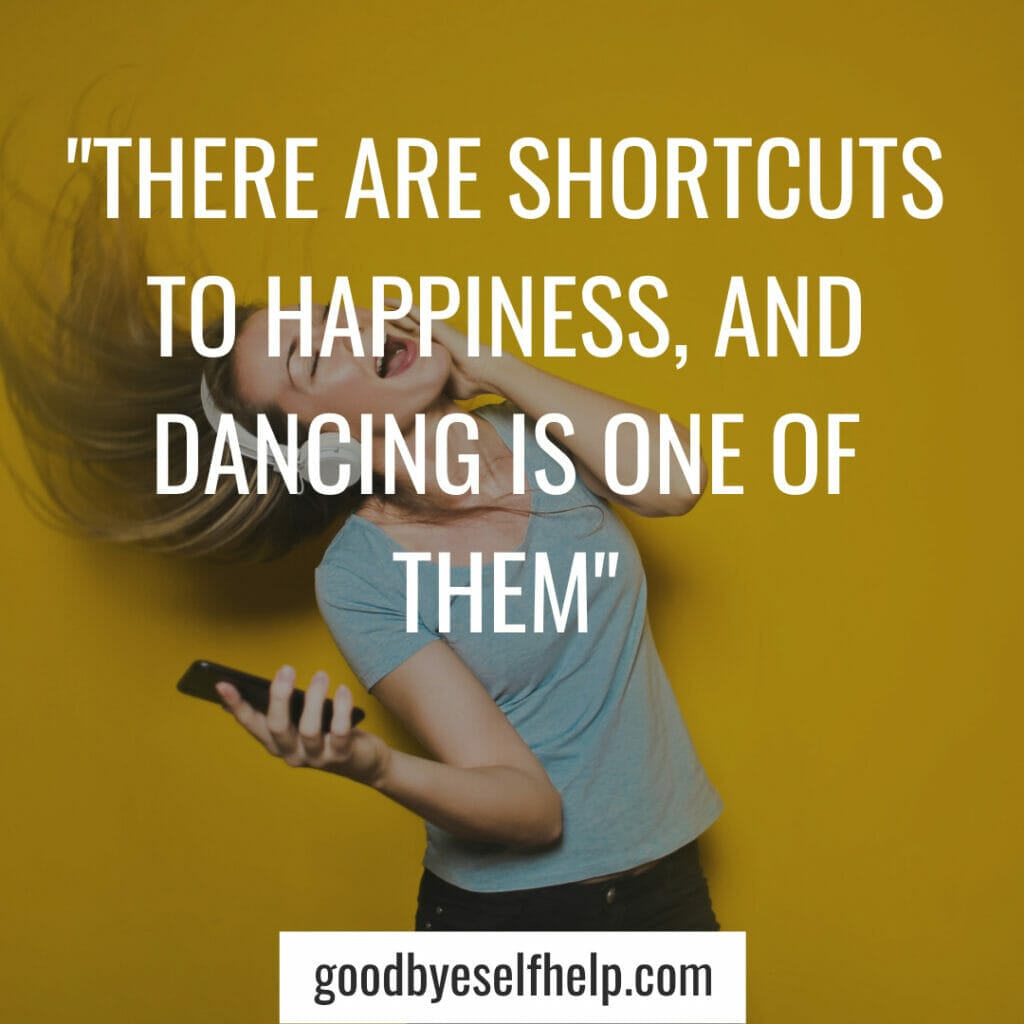 13. "I dance because there's no greater feeling in the world than moving to a piece of music and letting the rest of the world disappear."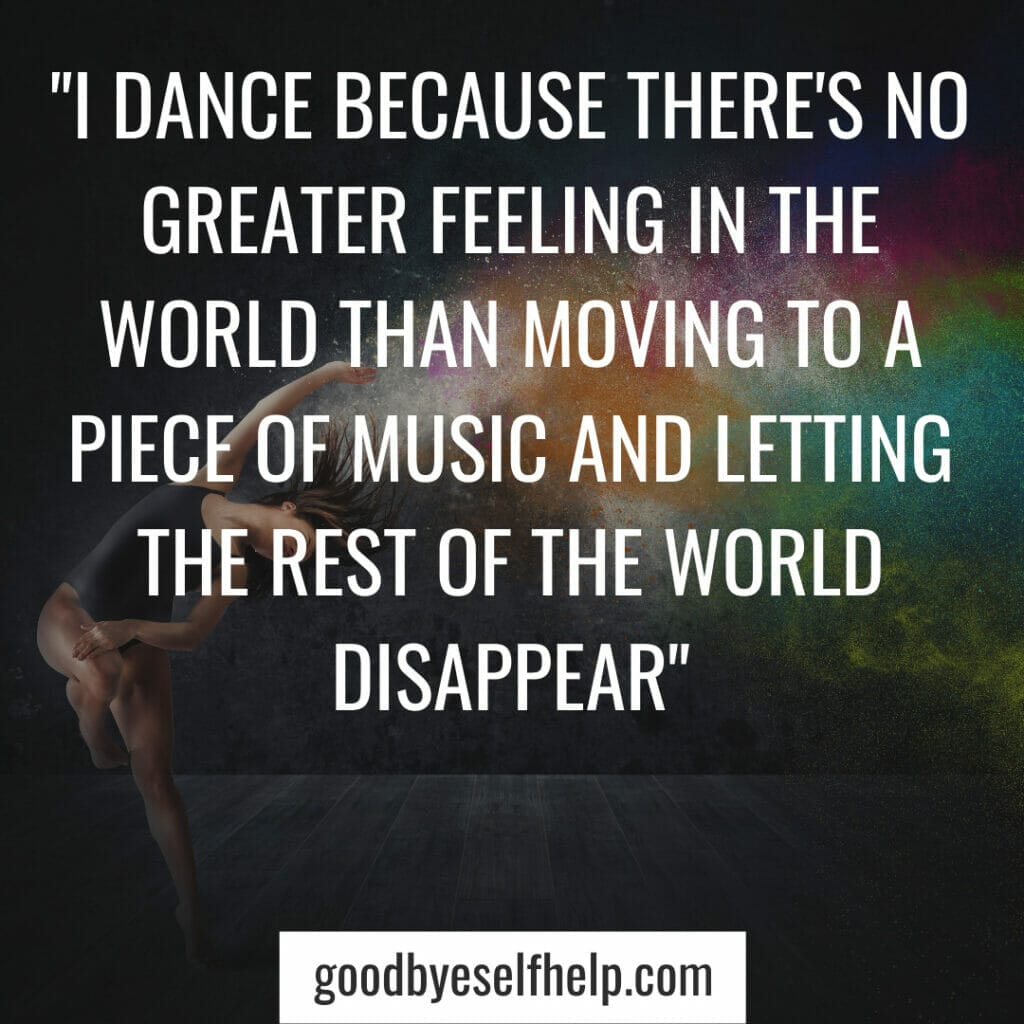 14. "Dancers are the athletes of God"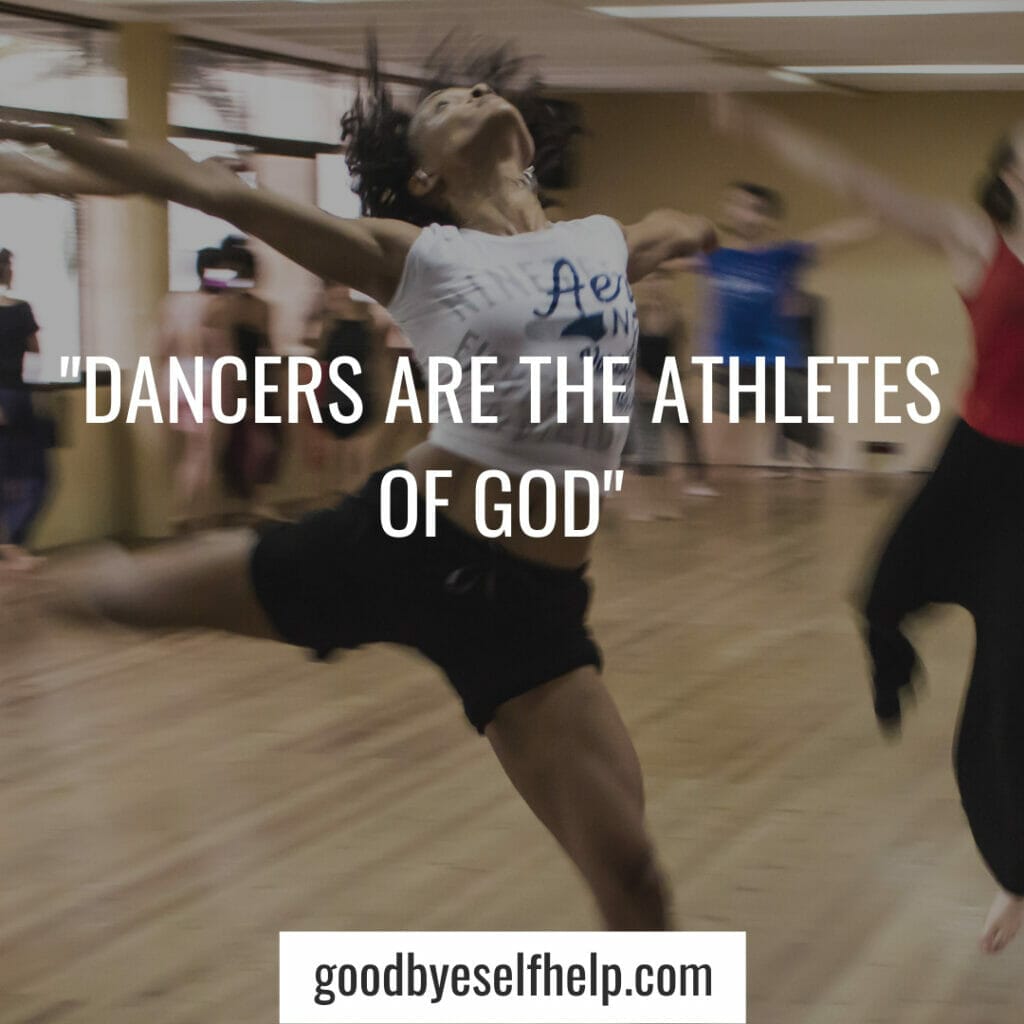 15. "Dancing with the feet is one thing, but dancing with the heart is another."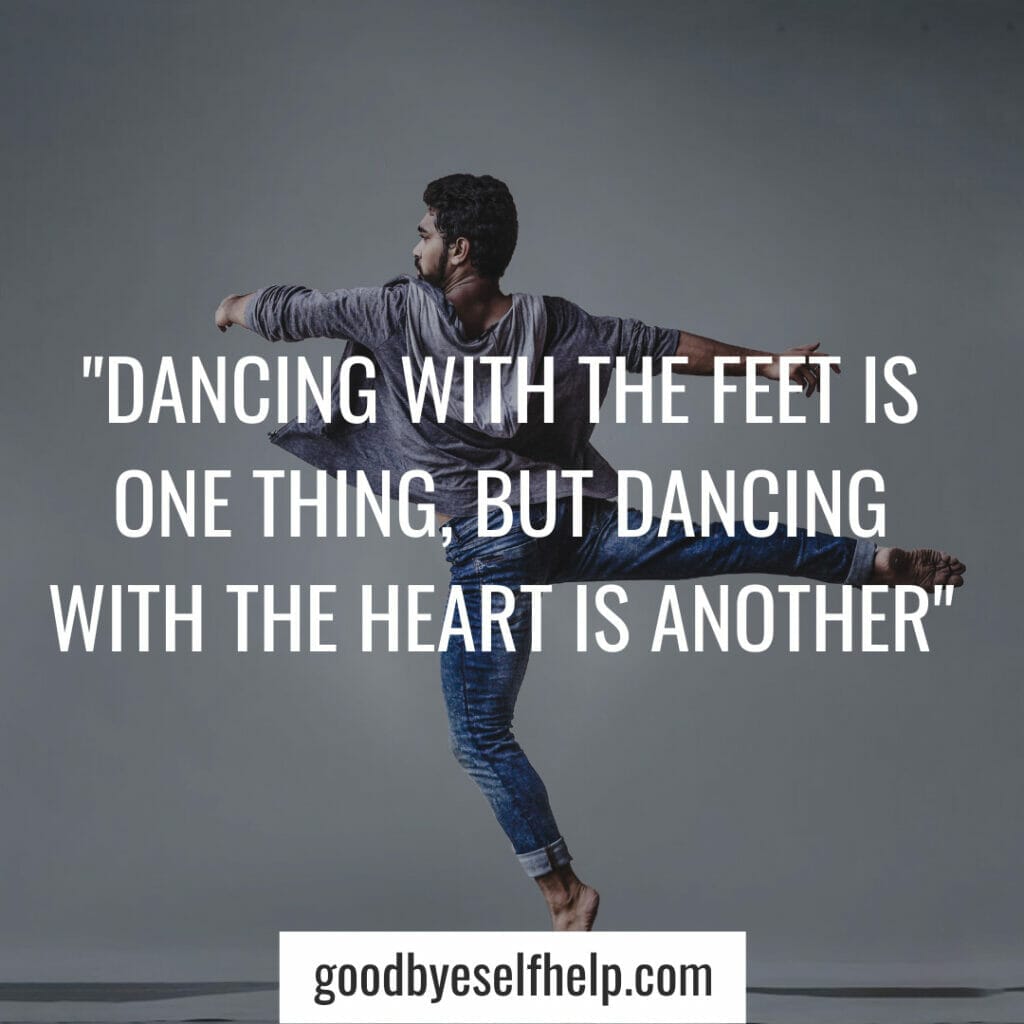 16. "Life isn't about waiting for the storm to pass, but about learning to dance in the rain."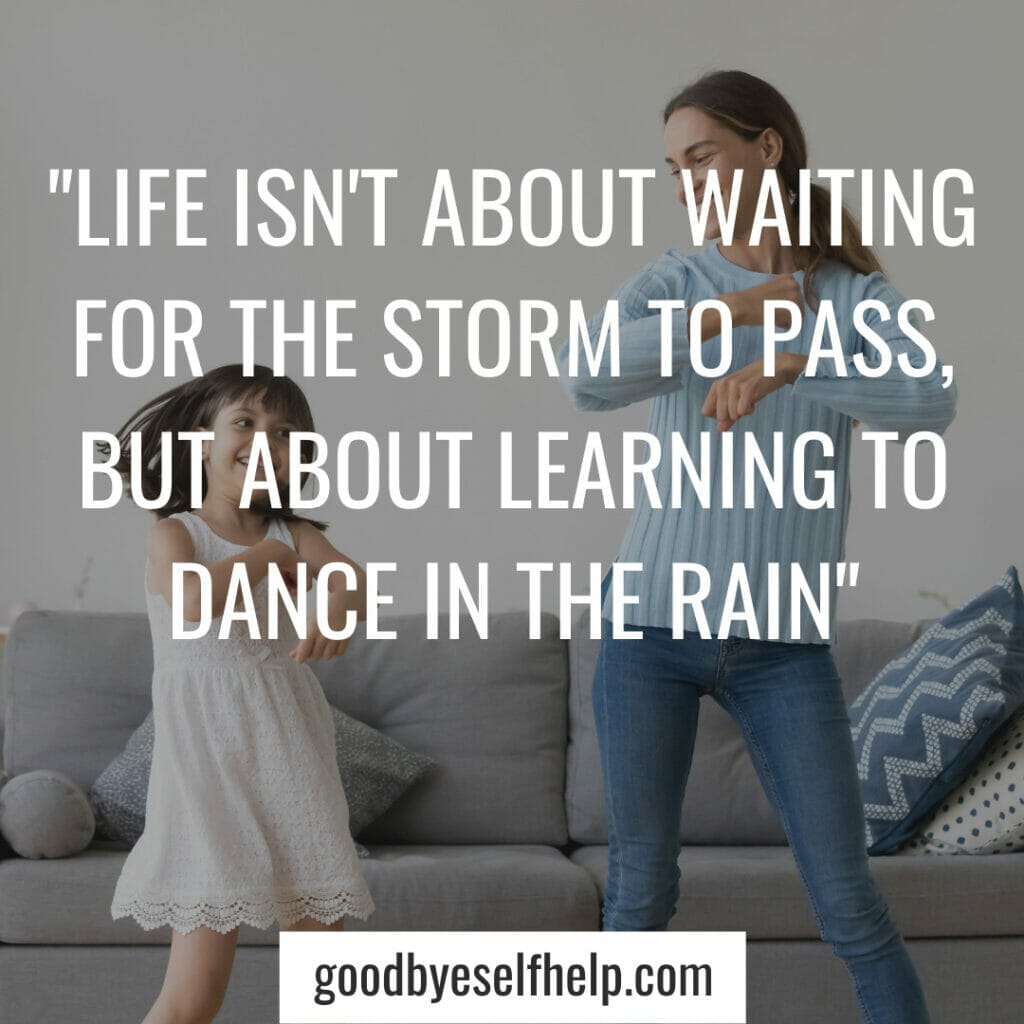 17. "It takes an athlete to dance, but an artists to be a dancer."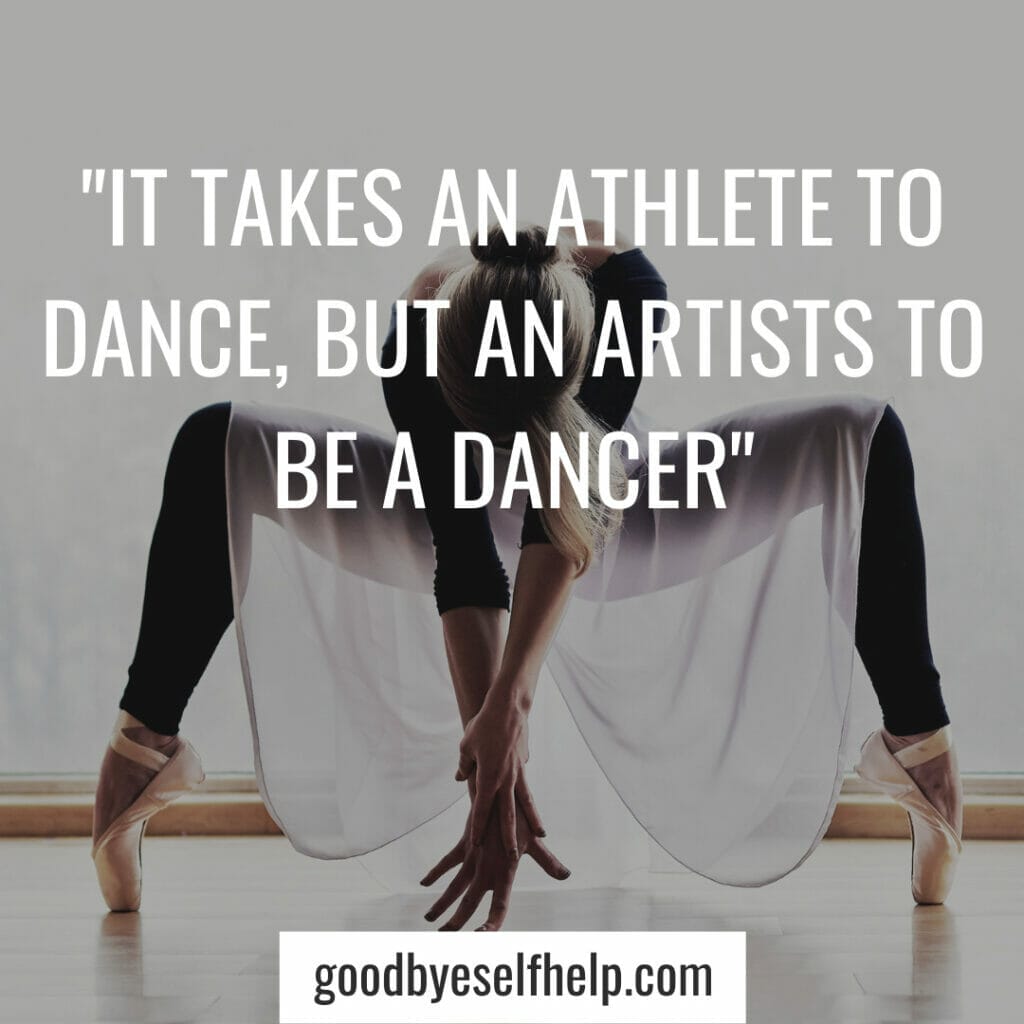 18. "Great dancers are not great because of their technique, they are great because of their passion."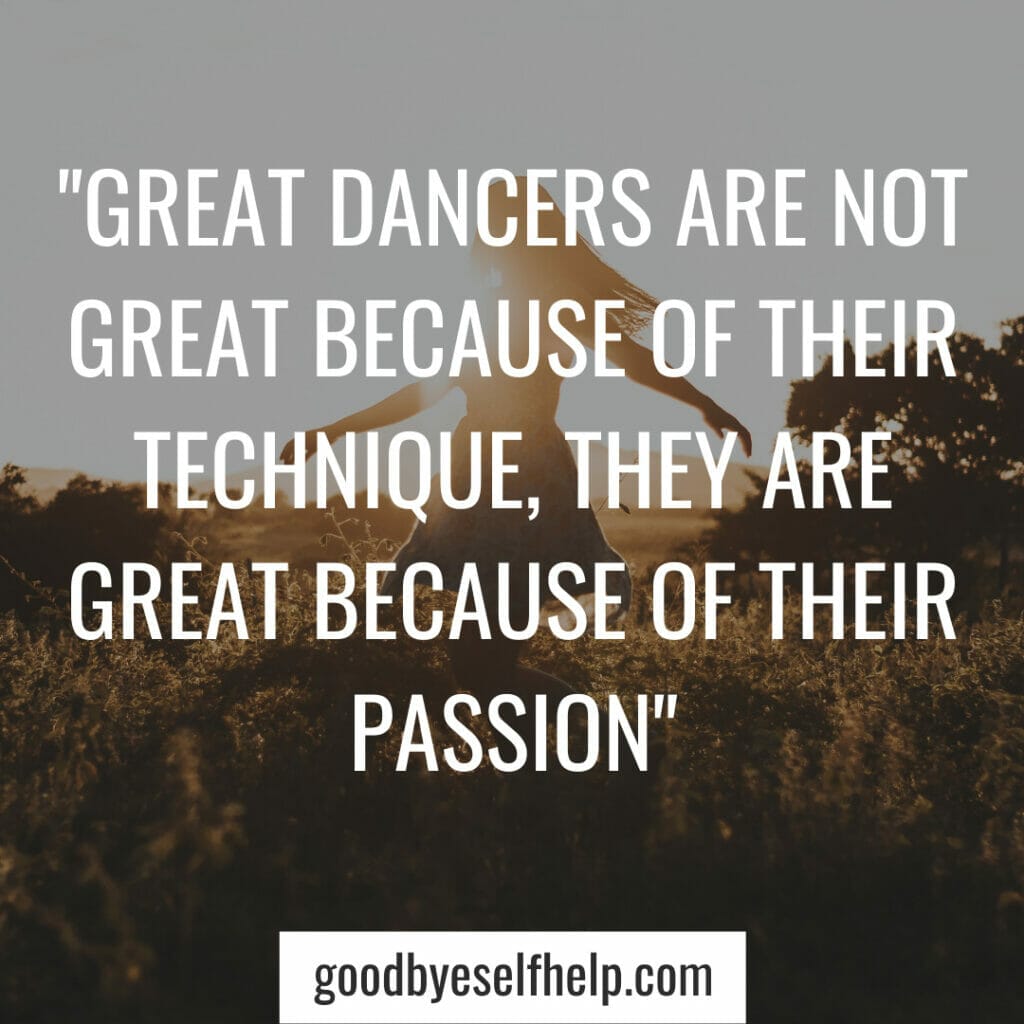 19. "Daily dance uplifts the soul to spiritual realms."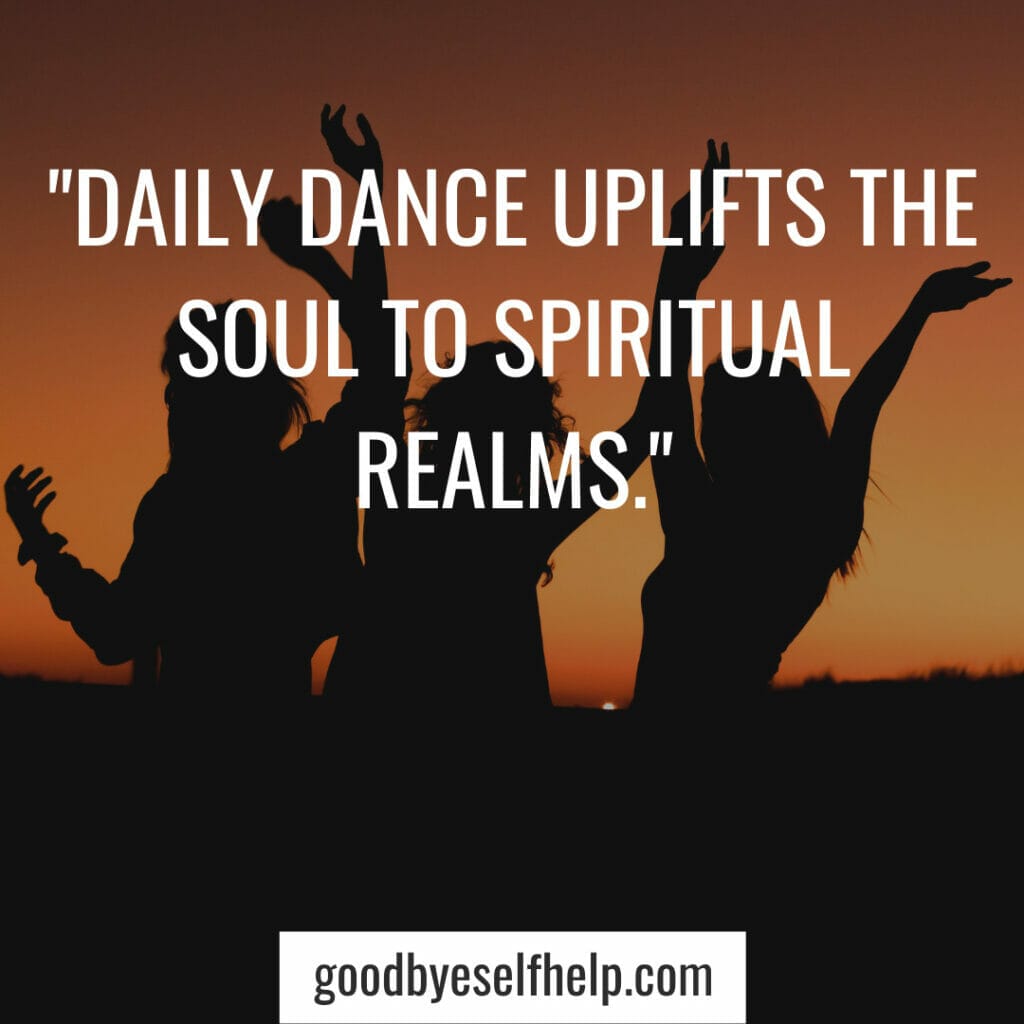 20. "Dance is not an option, it's who I am."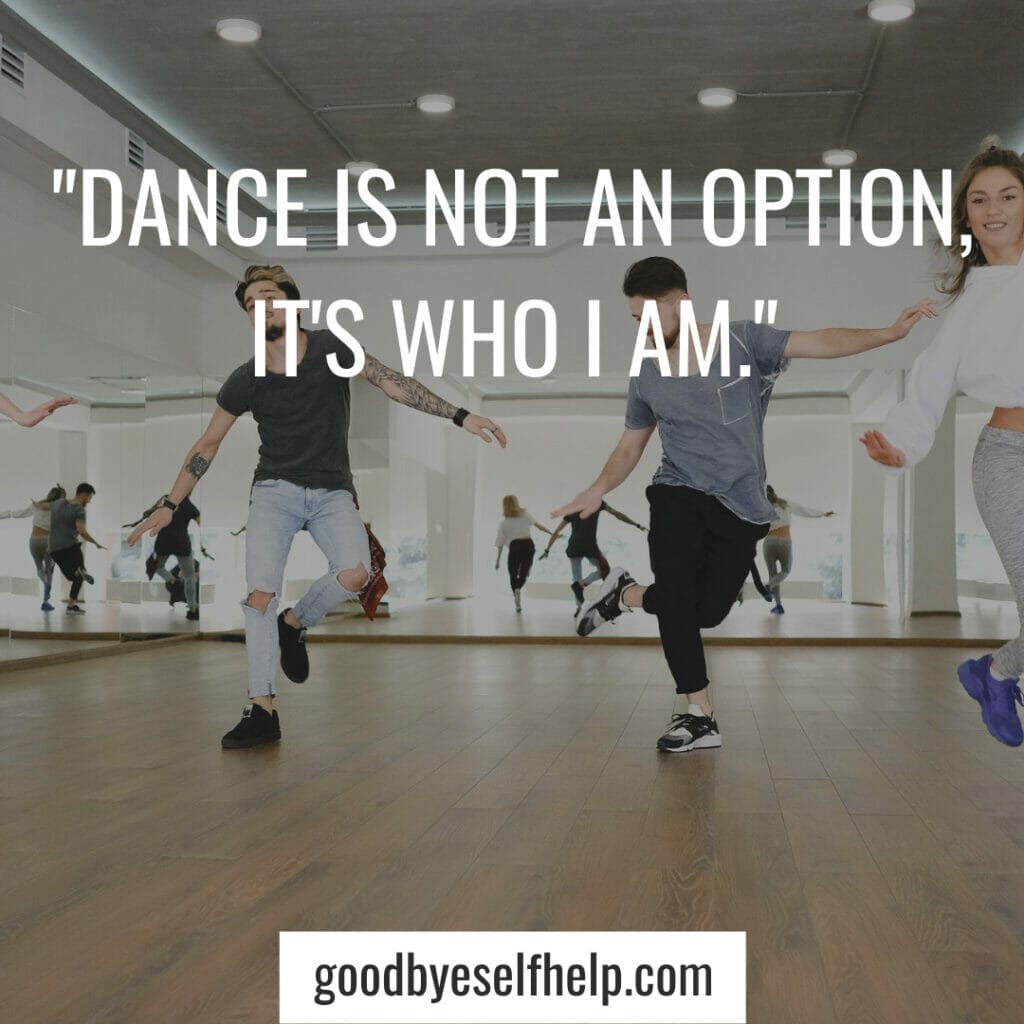 21. "Dance is the hidden language of the soul."
22. "When you dance, your purpose is not to get to a certain place on the floor, it's to enjoy each step along the way."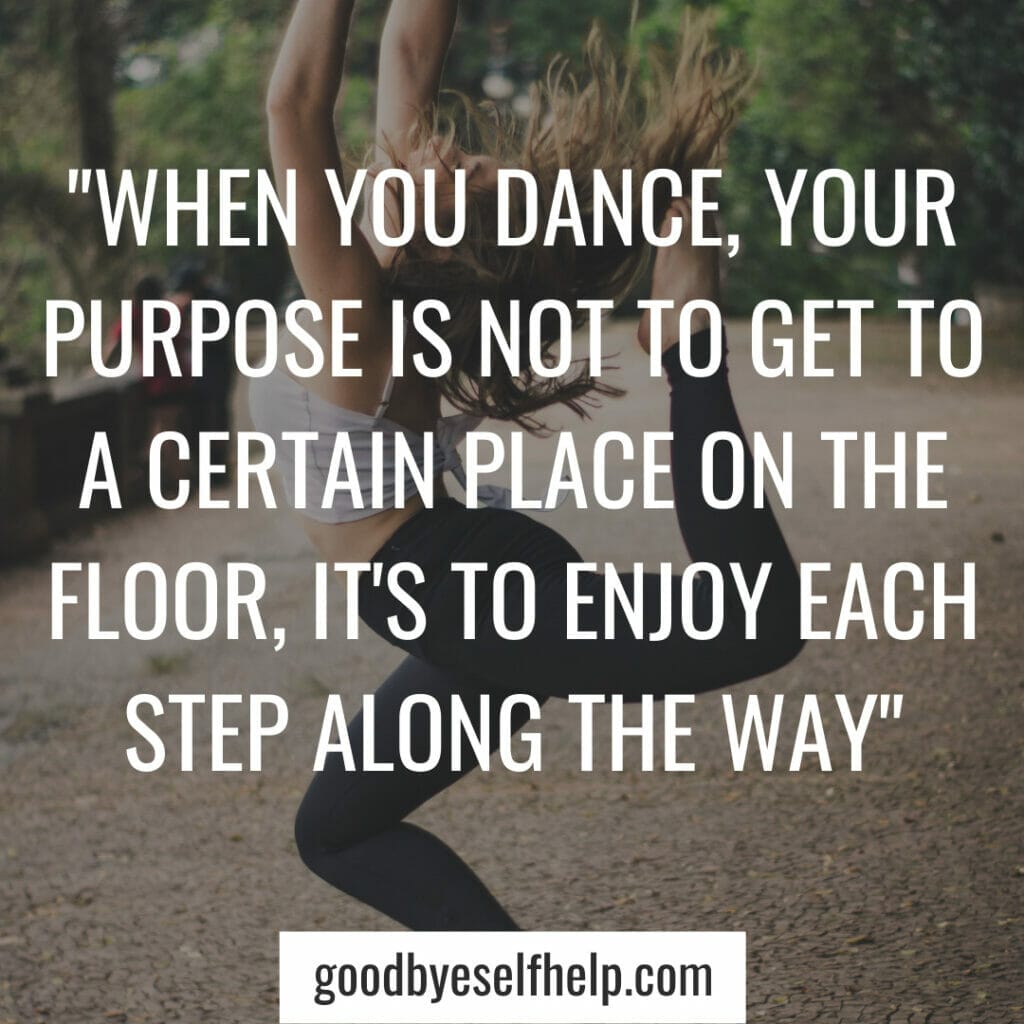 23. "Take more chances. Dance more dances."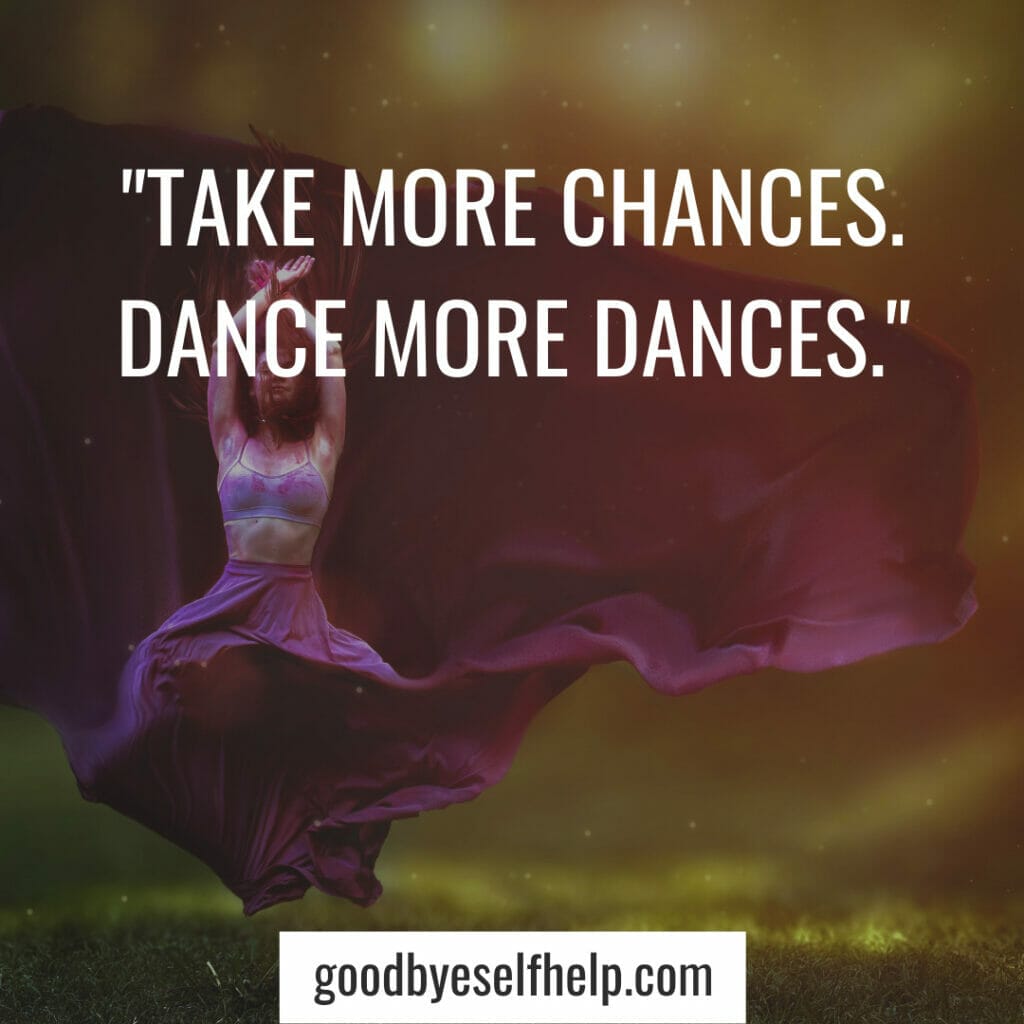 24. "Sometimes, I hurt because I dance. Other times, I dance because I'm hurt. Either way, dancing fixes it all."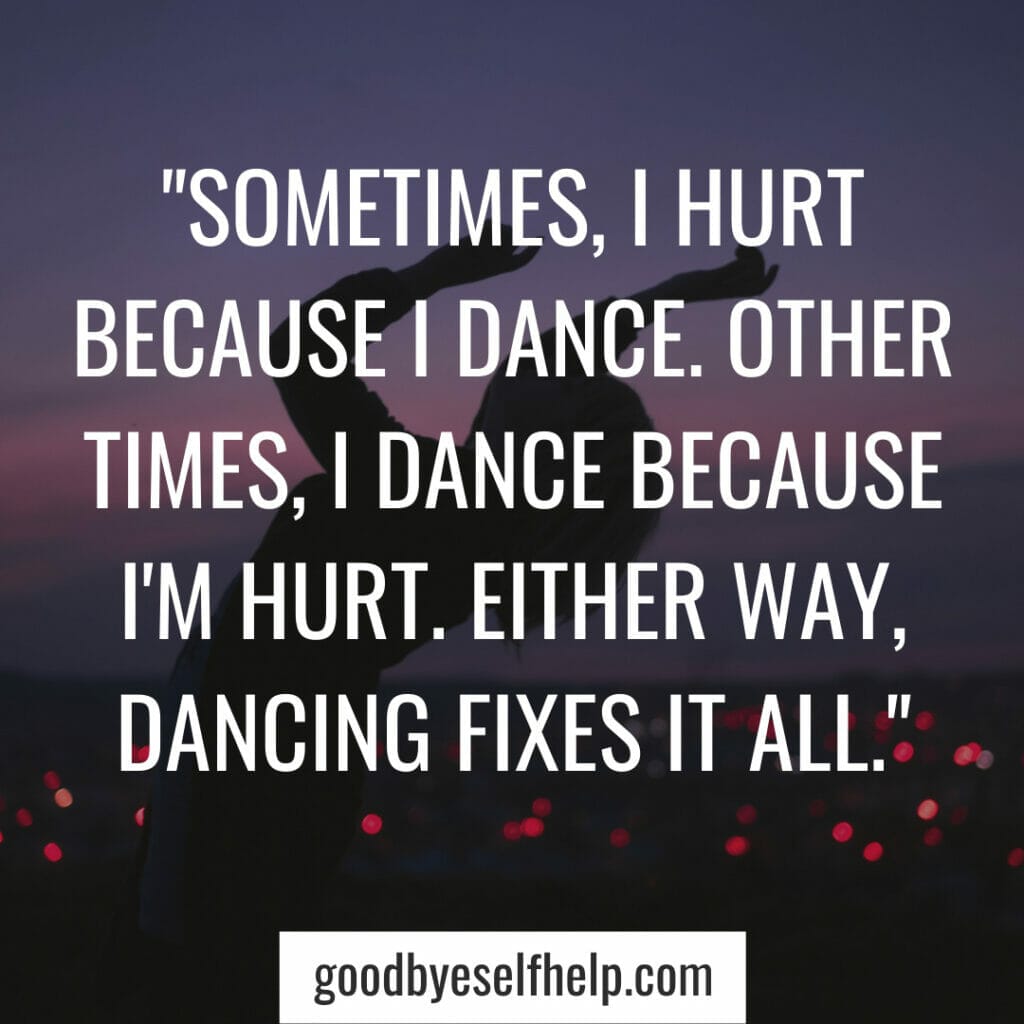 25. "Dance, when you're broken open. Dance, if you've torn the bandage off."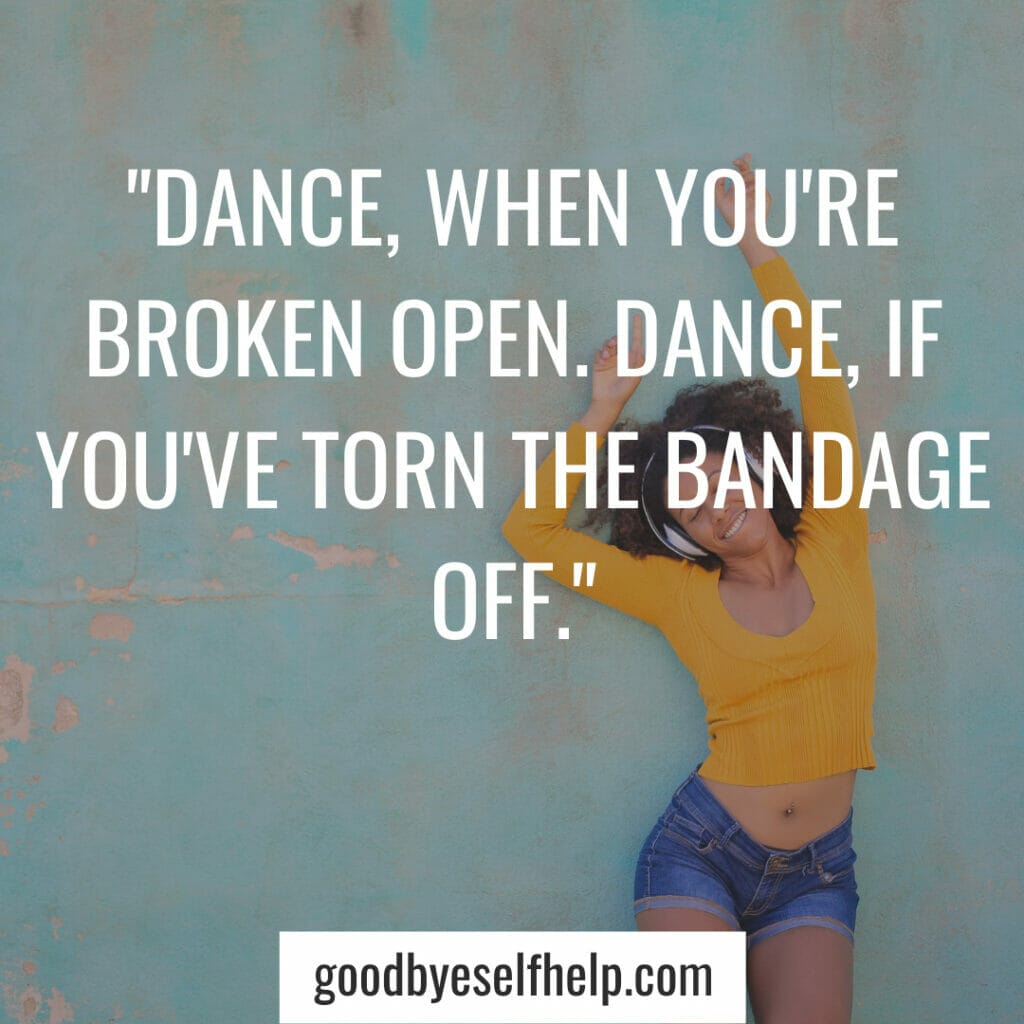 26. "I could not adequately describe the way dance makes me feel. It is as though I had somehow found a way to sever the chords holding me to this earth."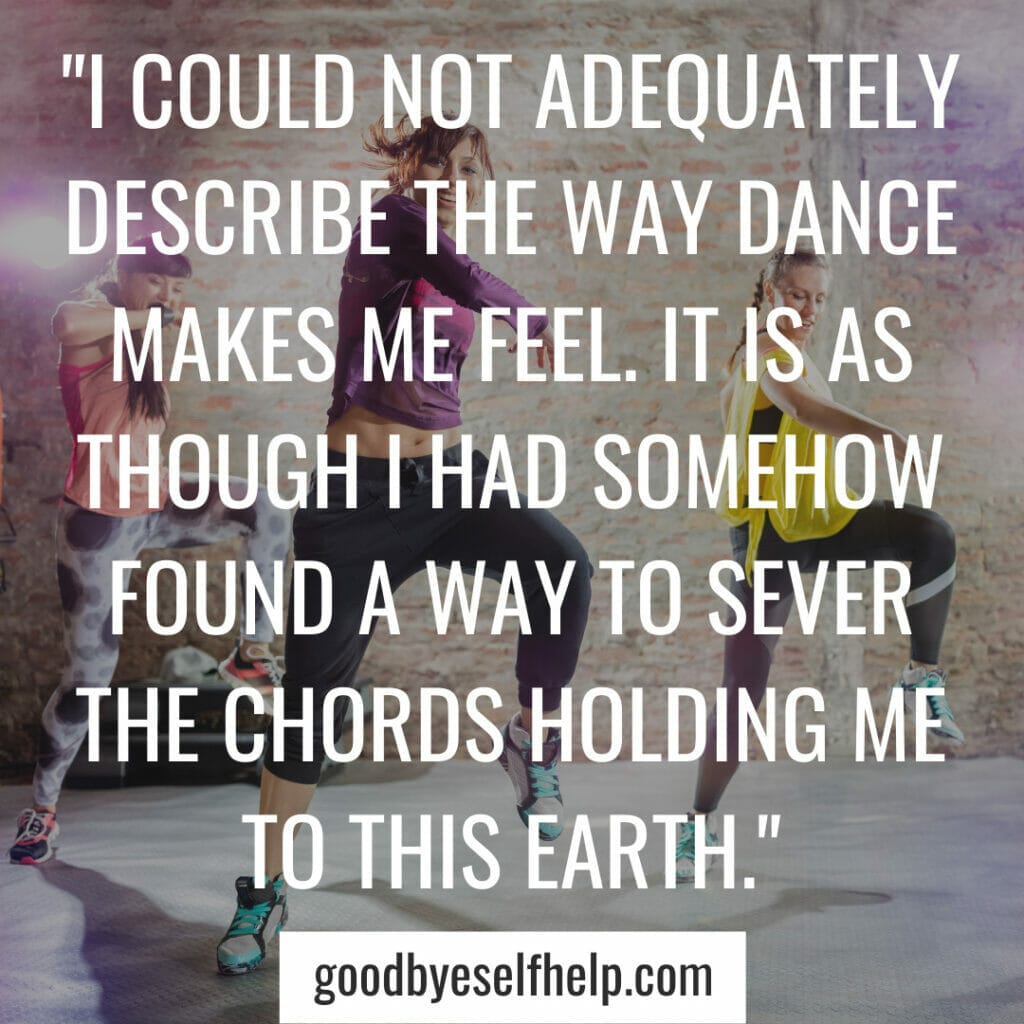 27. "Dance with your heart, and your feet will follow."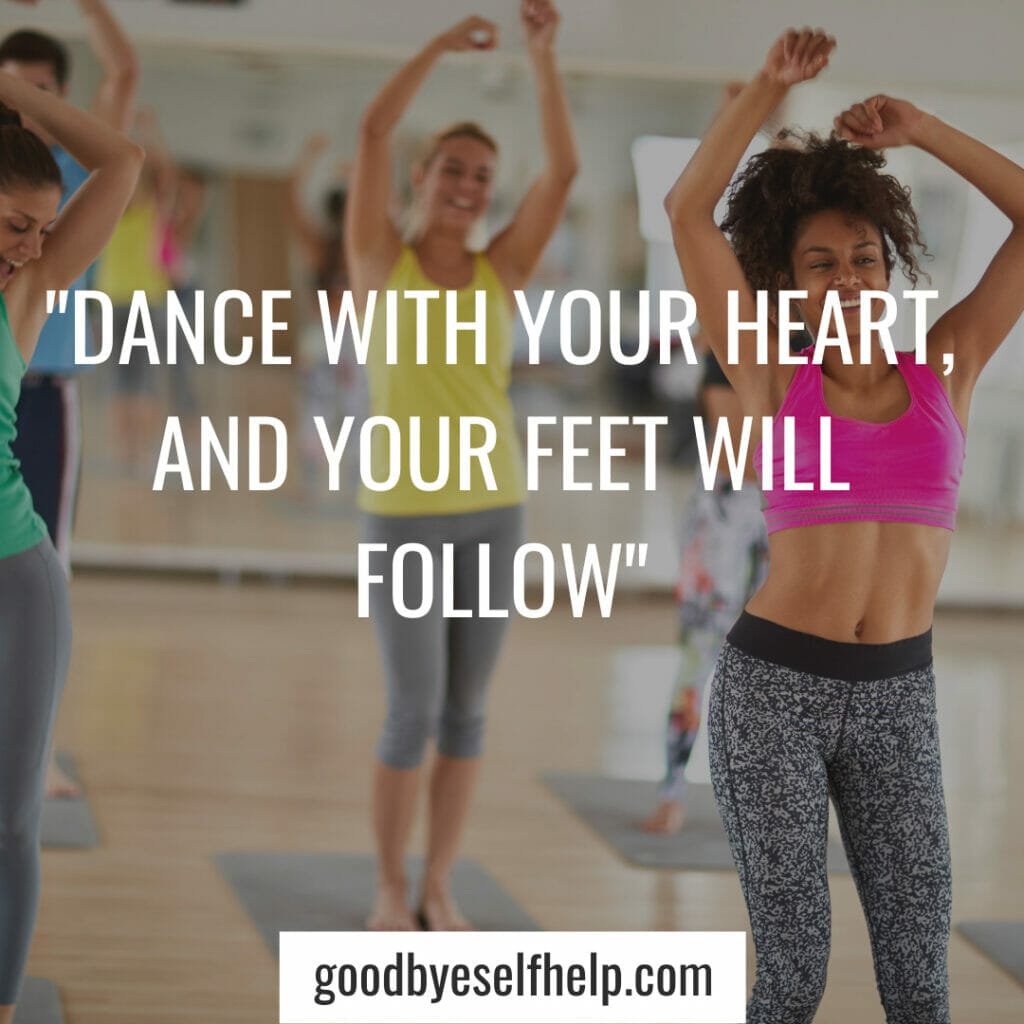 28. "Dance until your feet blister and bleed, your lets shake, and you might pass out. And then do it again."
29. "People dance because dance can change things. One move can bring people together."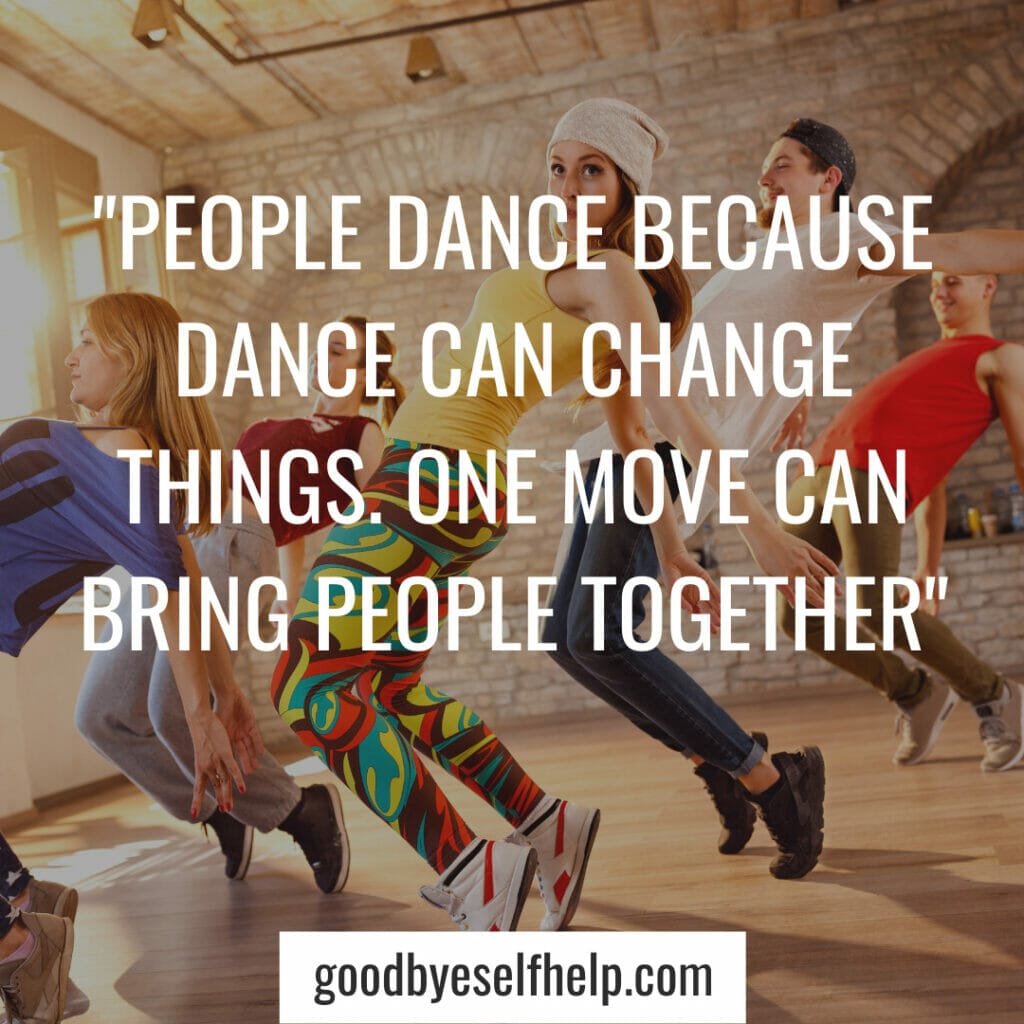 30. "Through a synergy of intellect, artistry and grace came into existence the blessing of a dancer."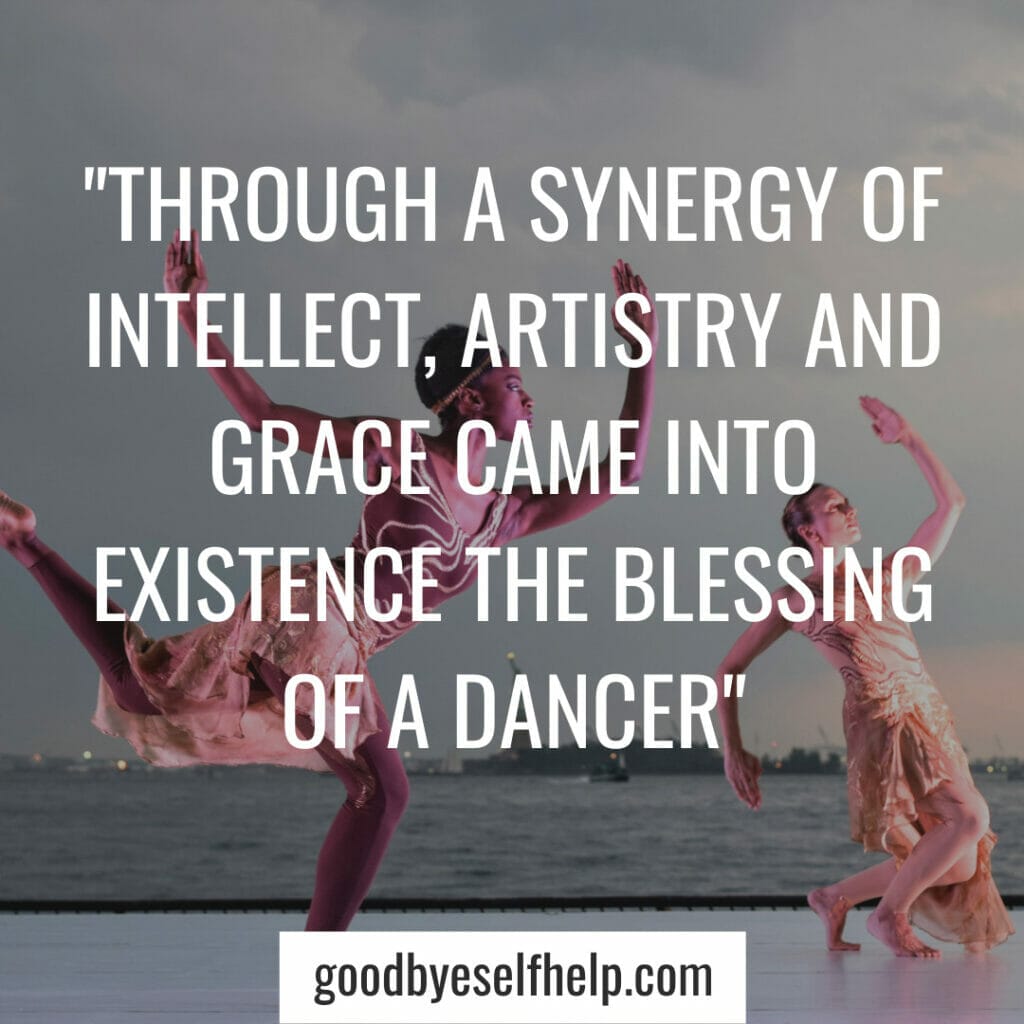 31. "Here's to the dancers whose real home is the stage."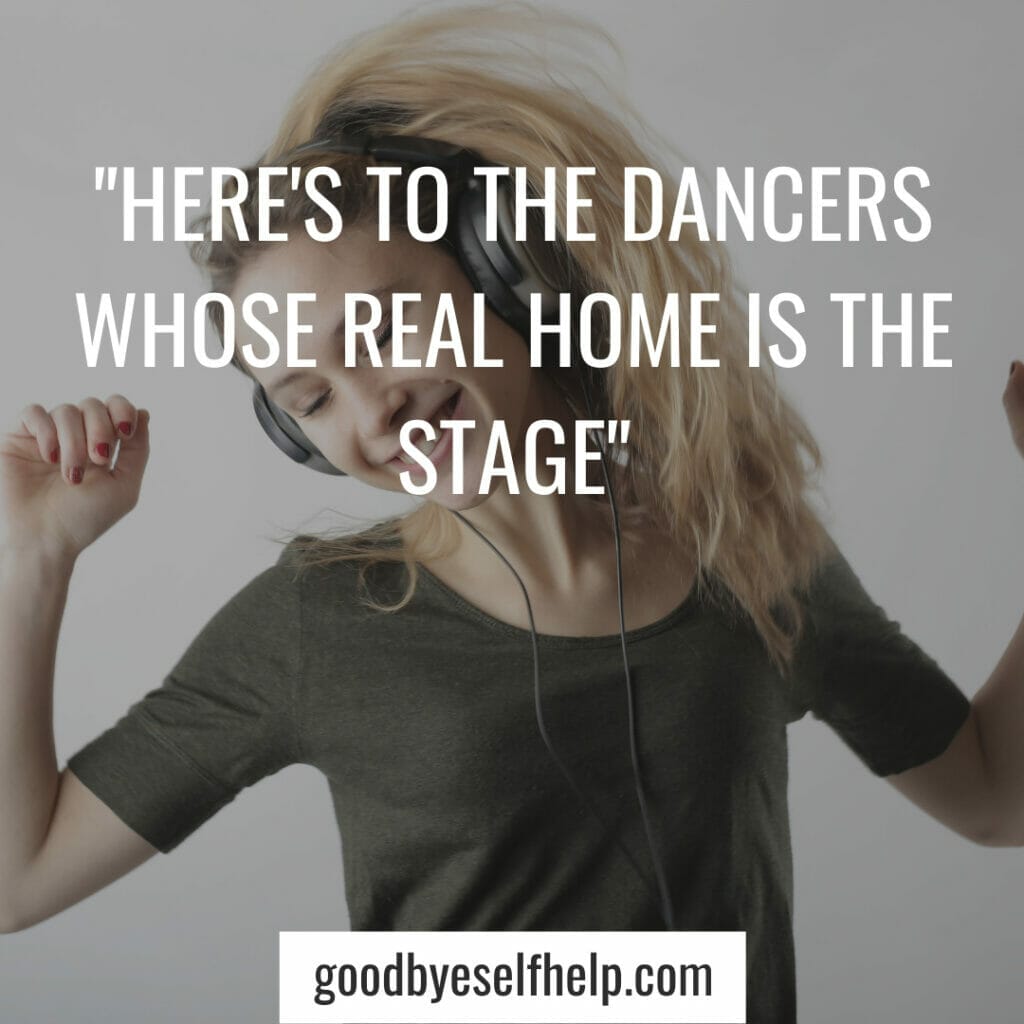 32. "The musician has the most brothers, and the dancer, the most sisters."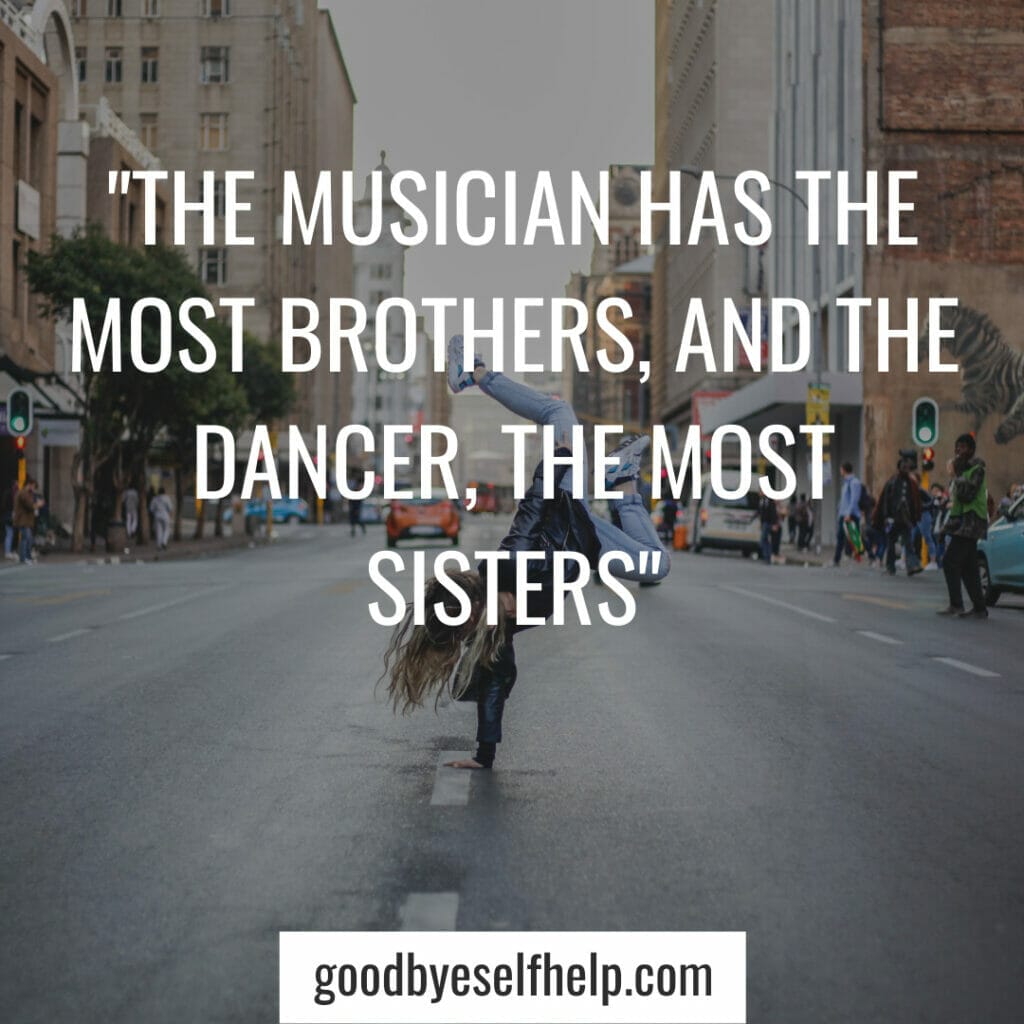 33. "You earn your dance trophies at practice. You pick them up at competitions."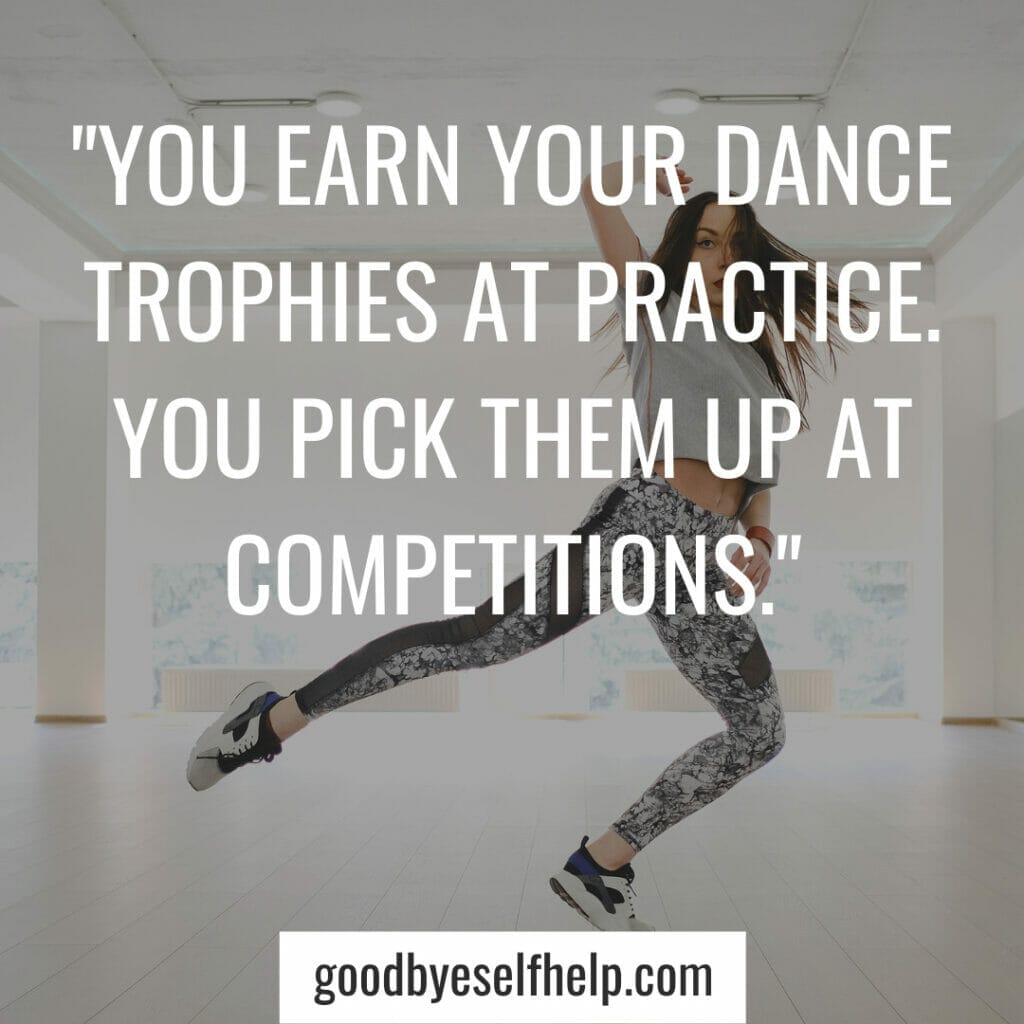 34. "Dance every performance as if it were your last."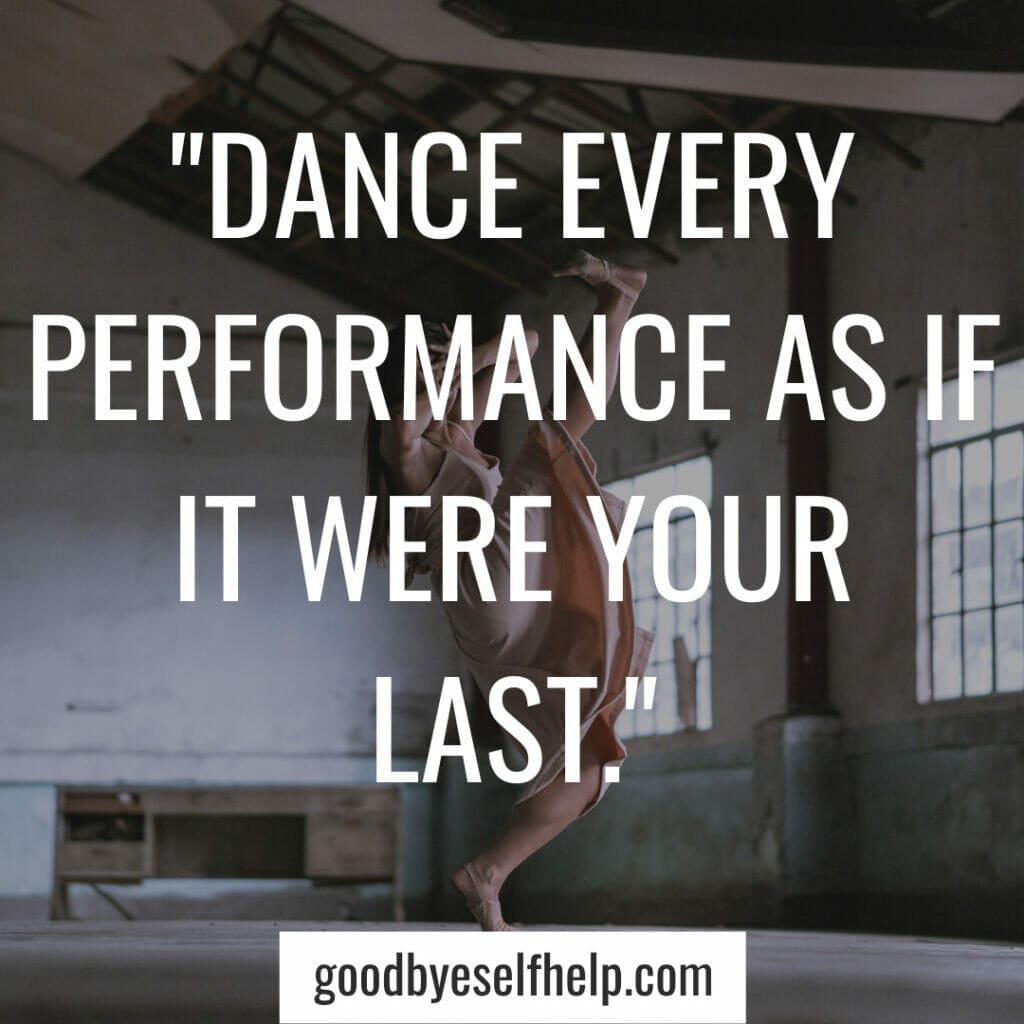 35. "We dance to seduce ourselves, to fall in love with ourselves."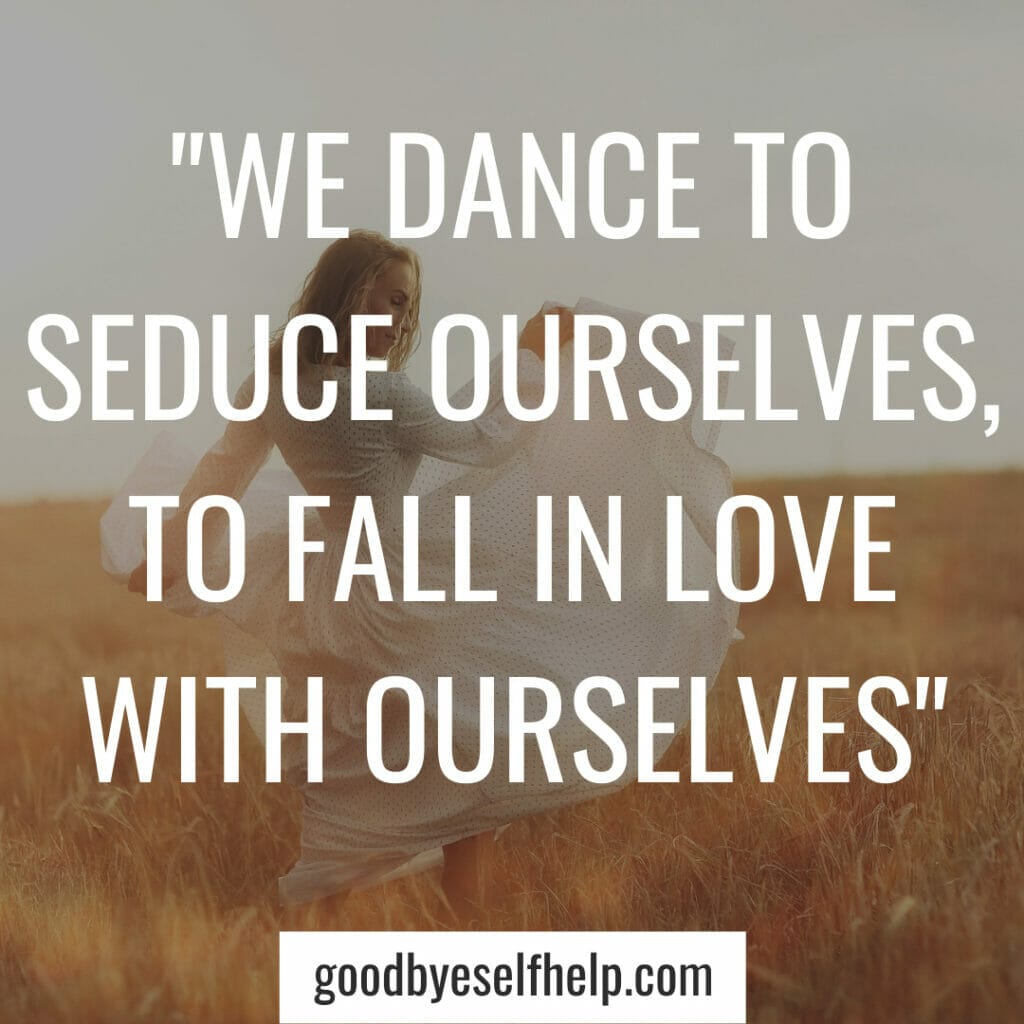 36. "Born to dance."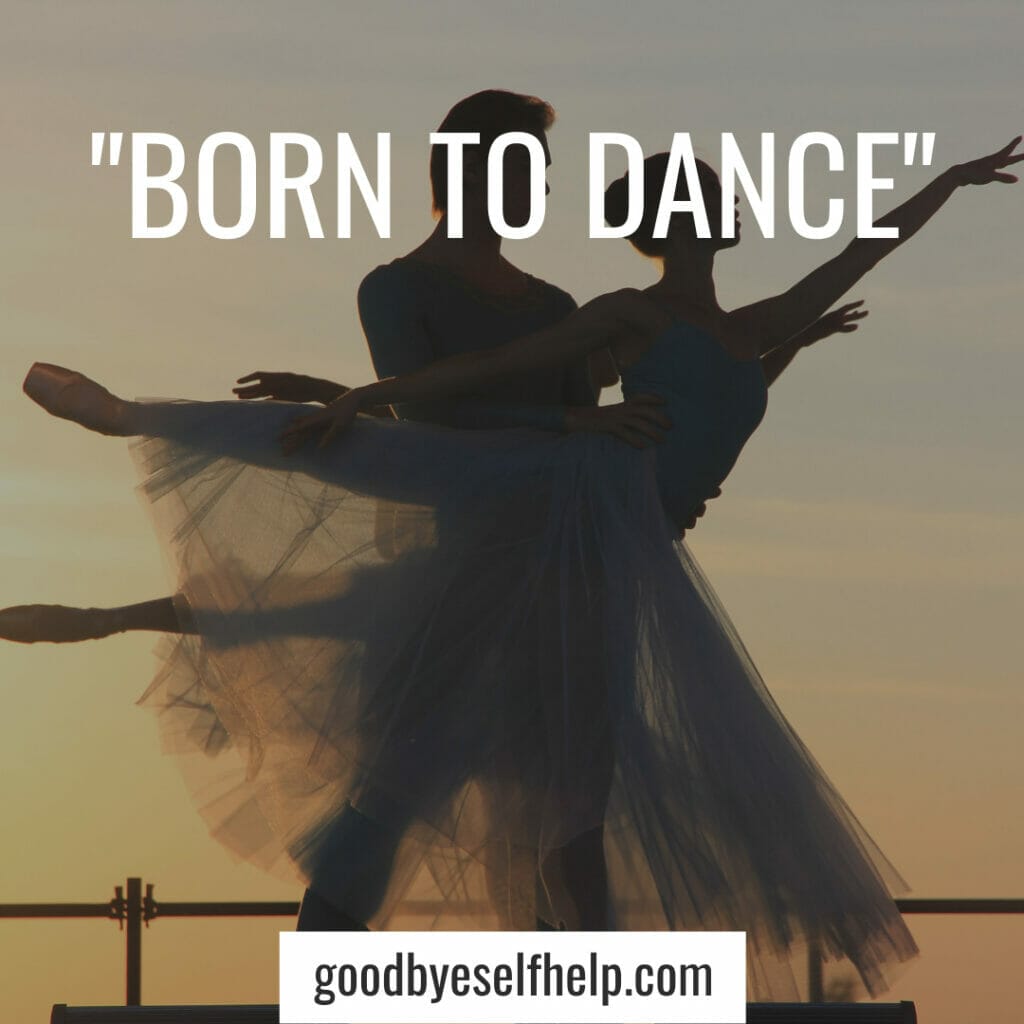 37. "Don't mess with a dancer."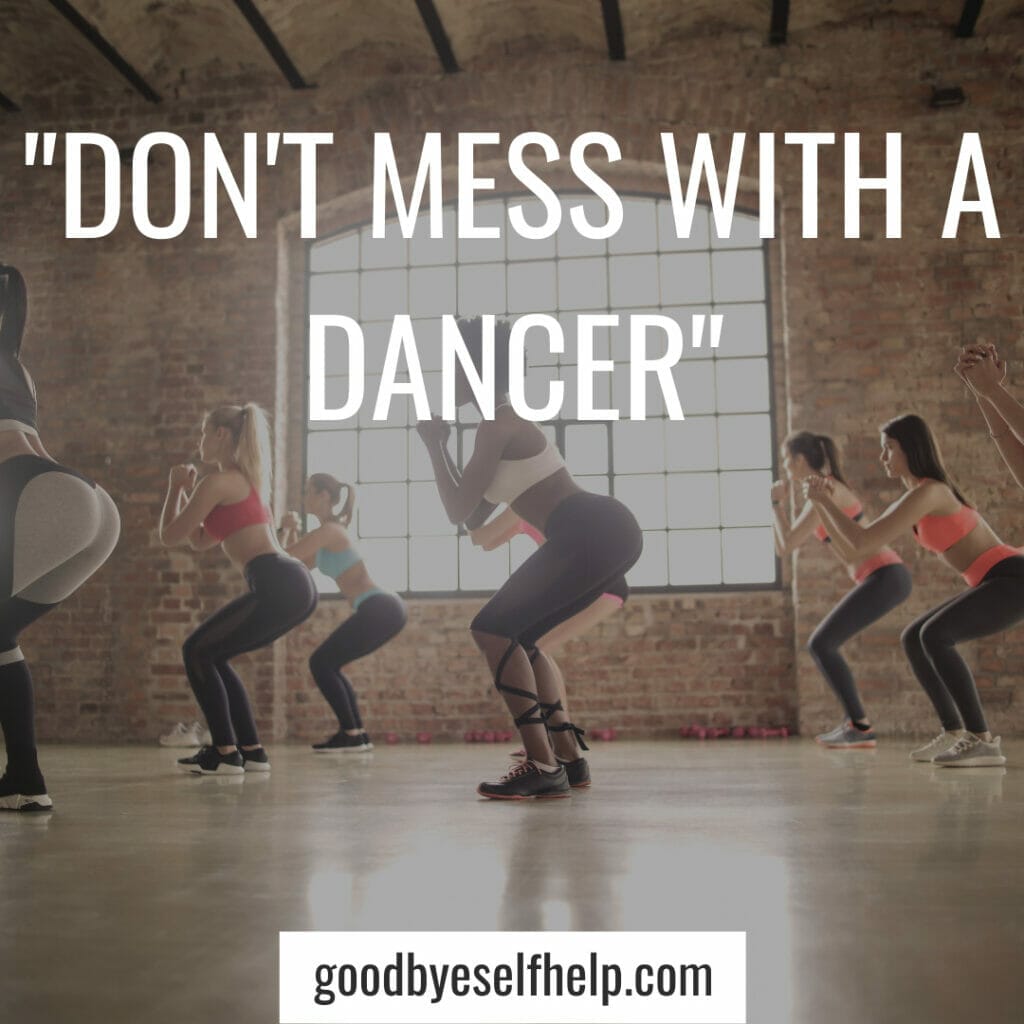 38. "Happiness is finding the perfect dance partner."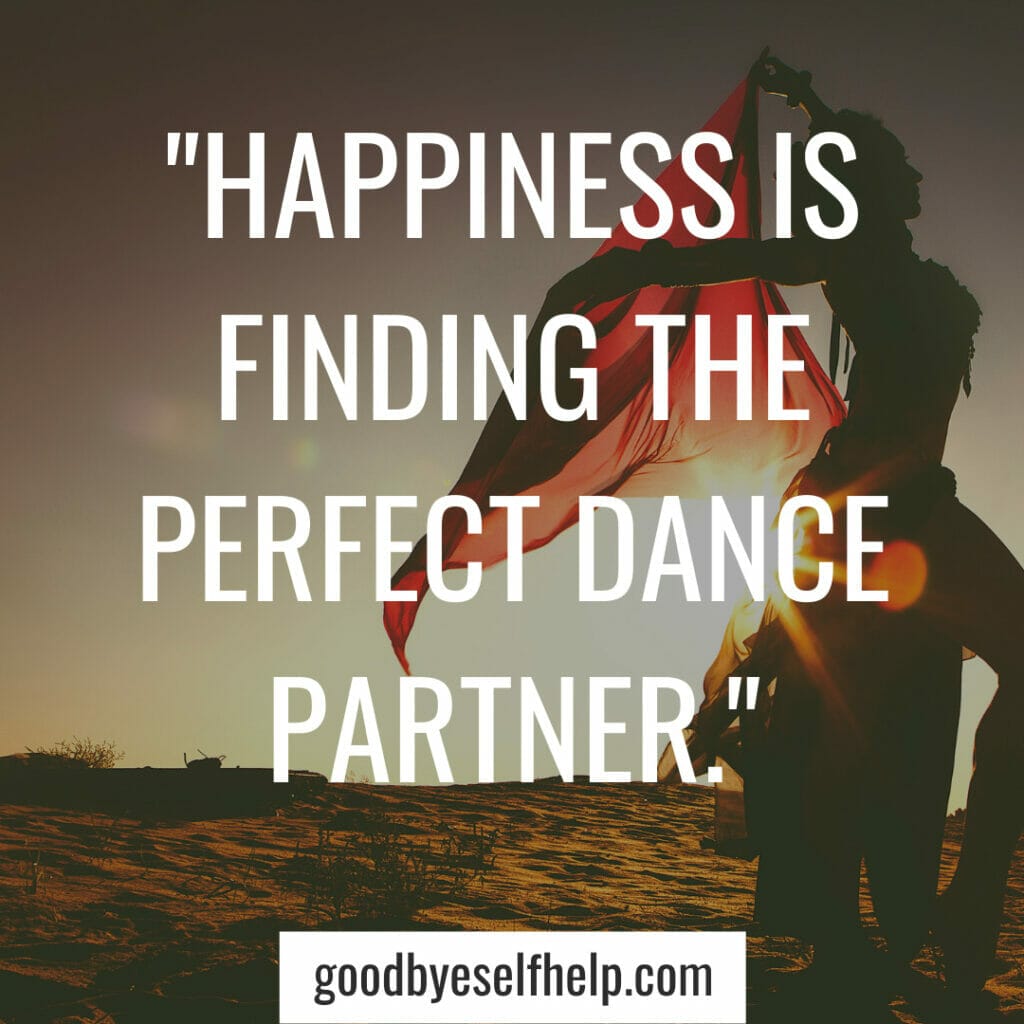 39. "It's not about the shoes. It's about what you do in them."
40. "Dance is for everybody. I believe that the dance came from the people and that it should always be delivered back to the people."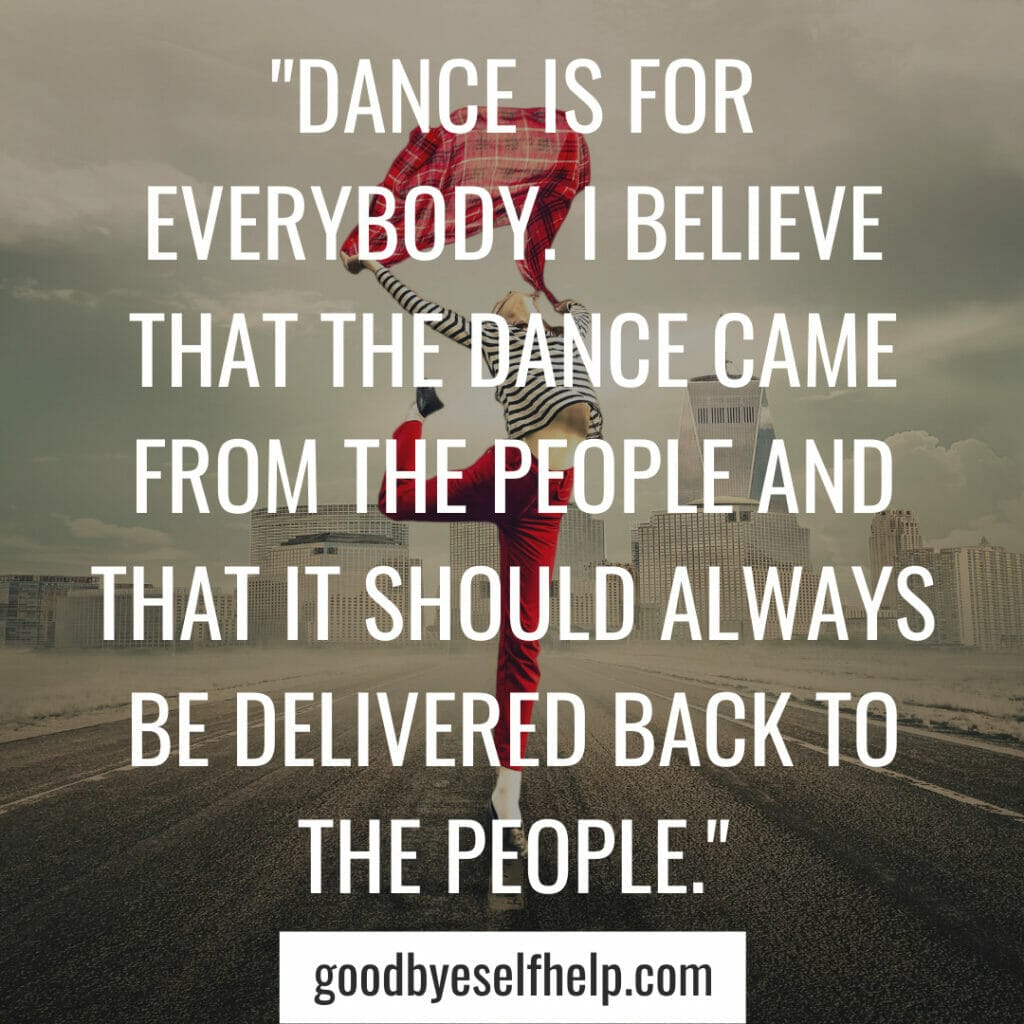 41. "You look ridiculous if you dance. You look ridiculous if you don't dance. So you might as well dance."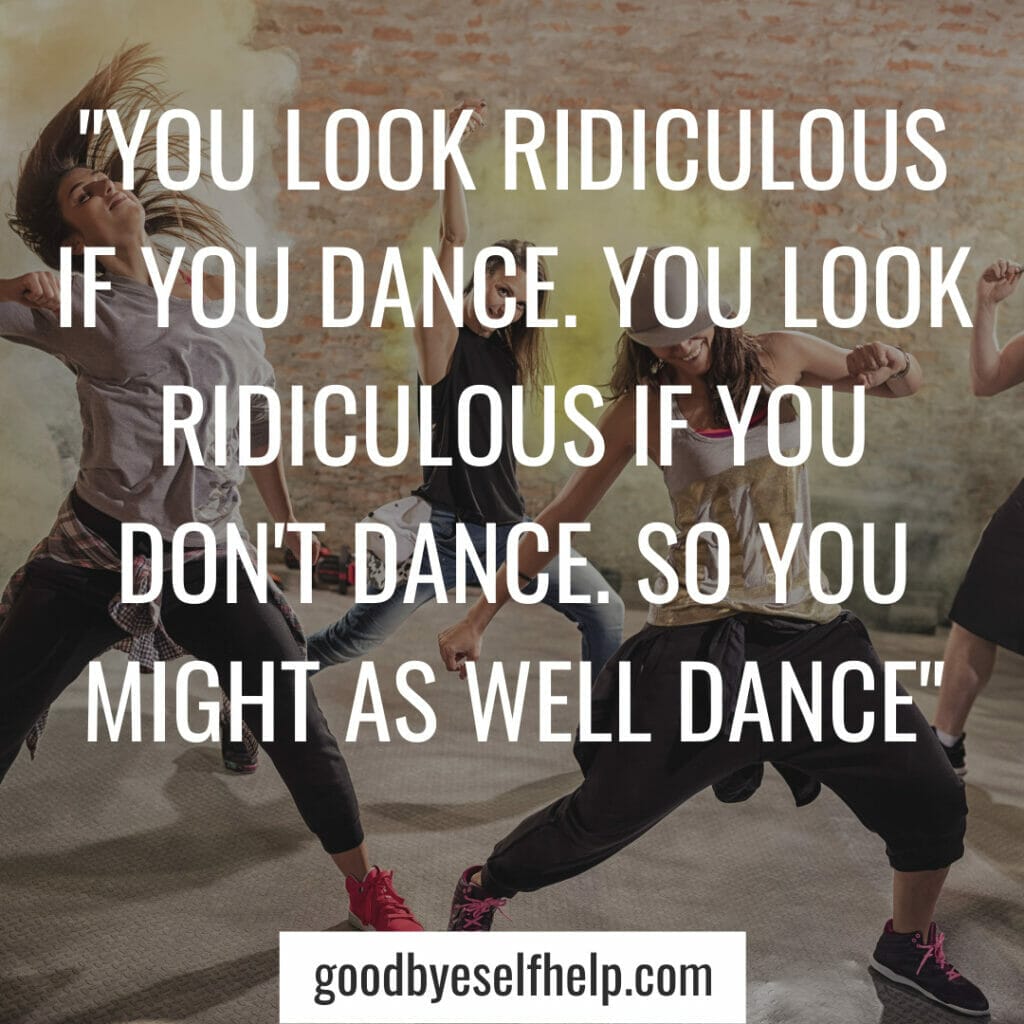 42. "Dance less in motion and more in spirit; awaken the dreamer within."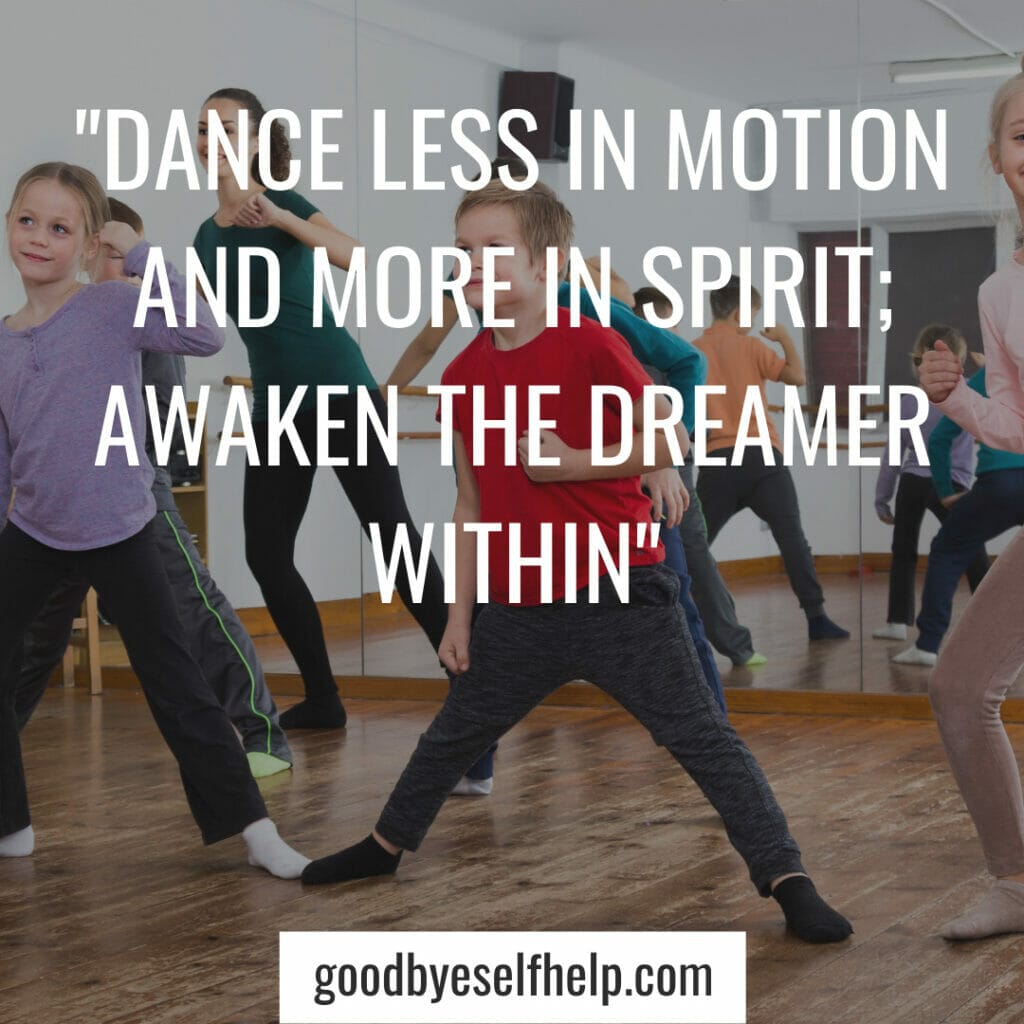 43. "To love her is to dance to whatever music her heart is playing"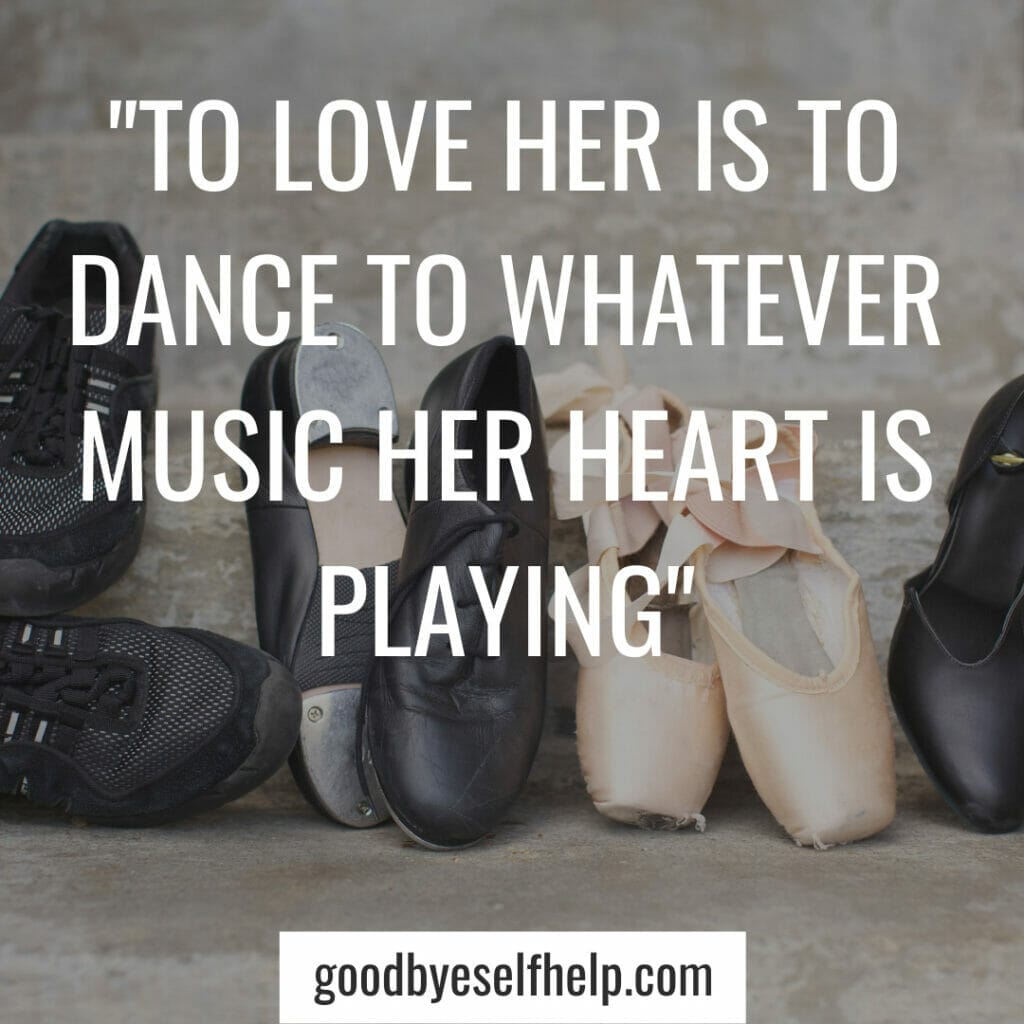 44. "I love when we dance to our favorite songs."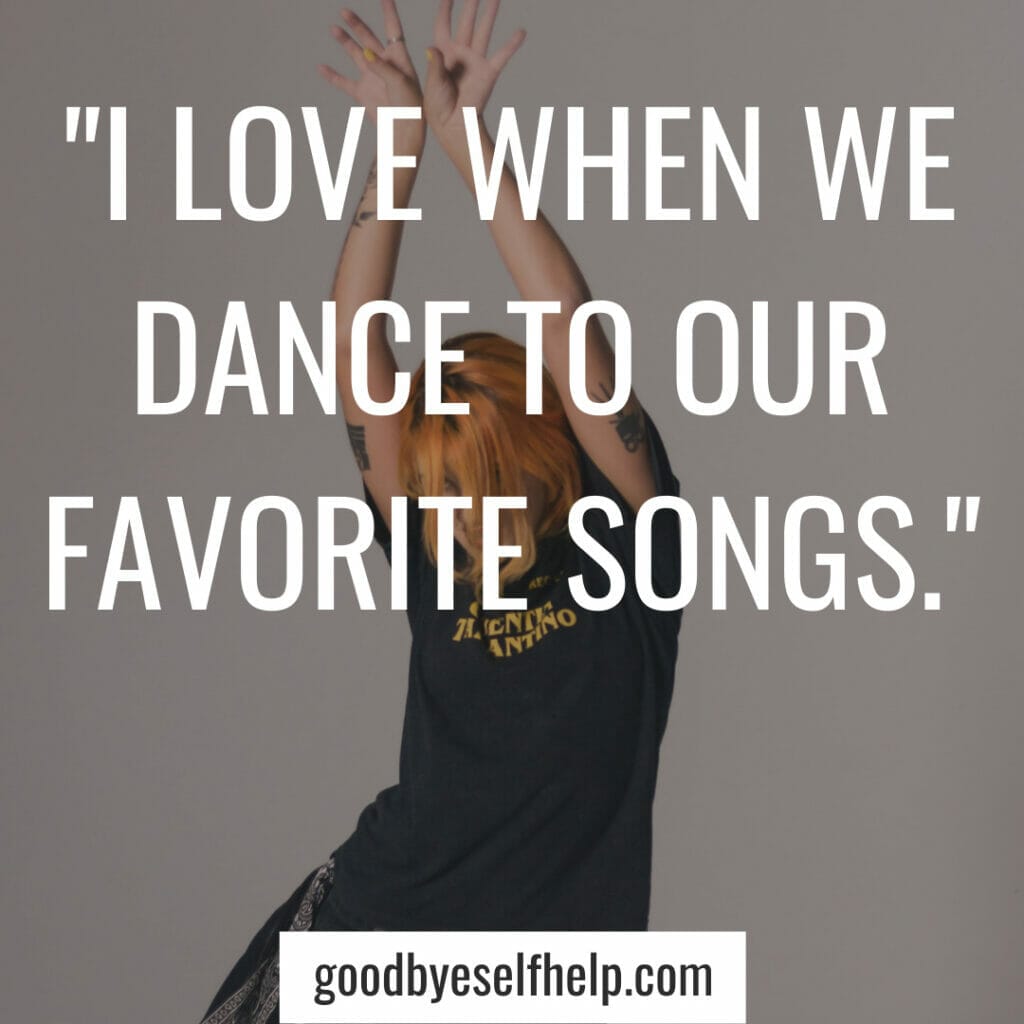 45. "Dance first, think later."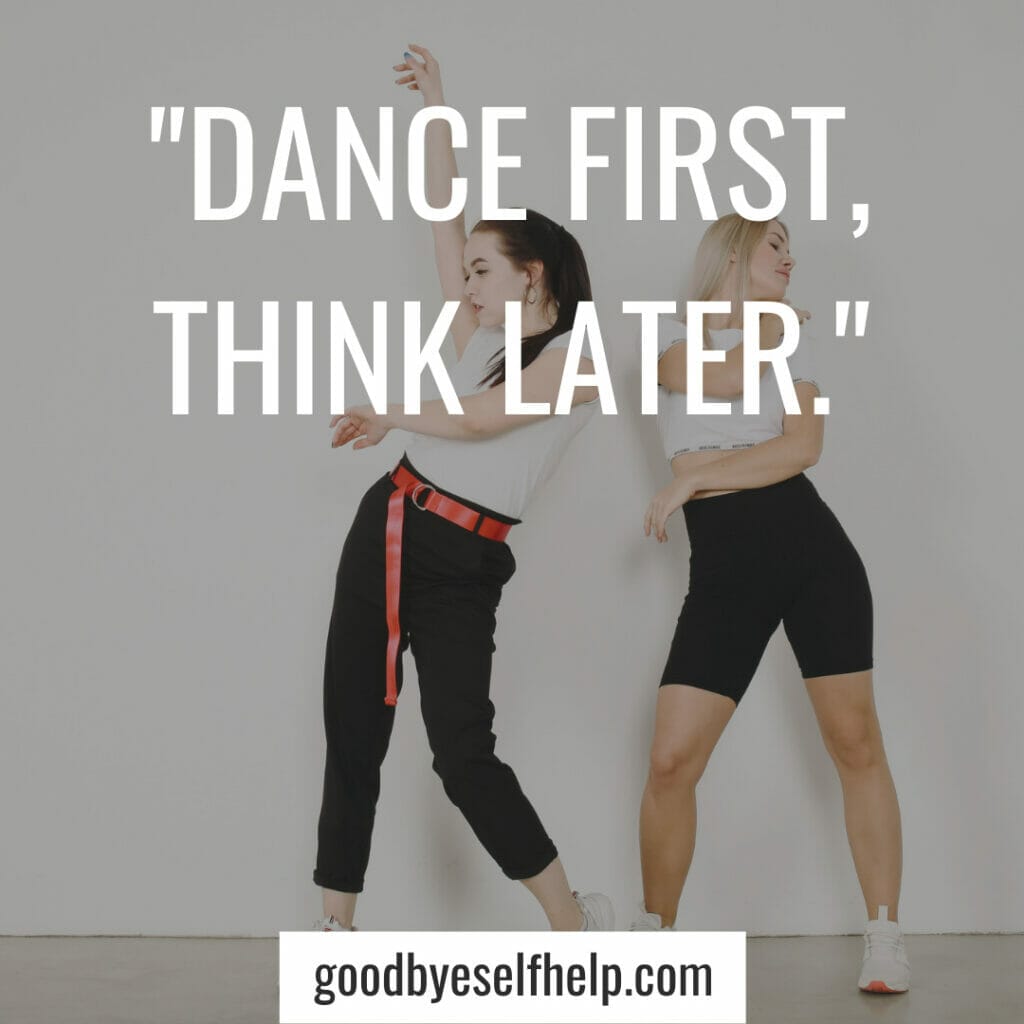 46. "When you feel sad, dance."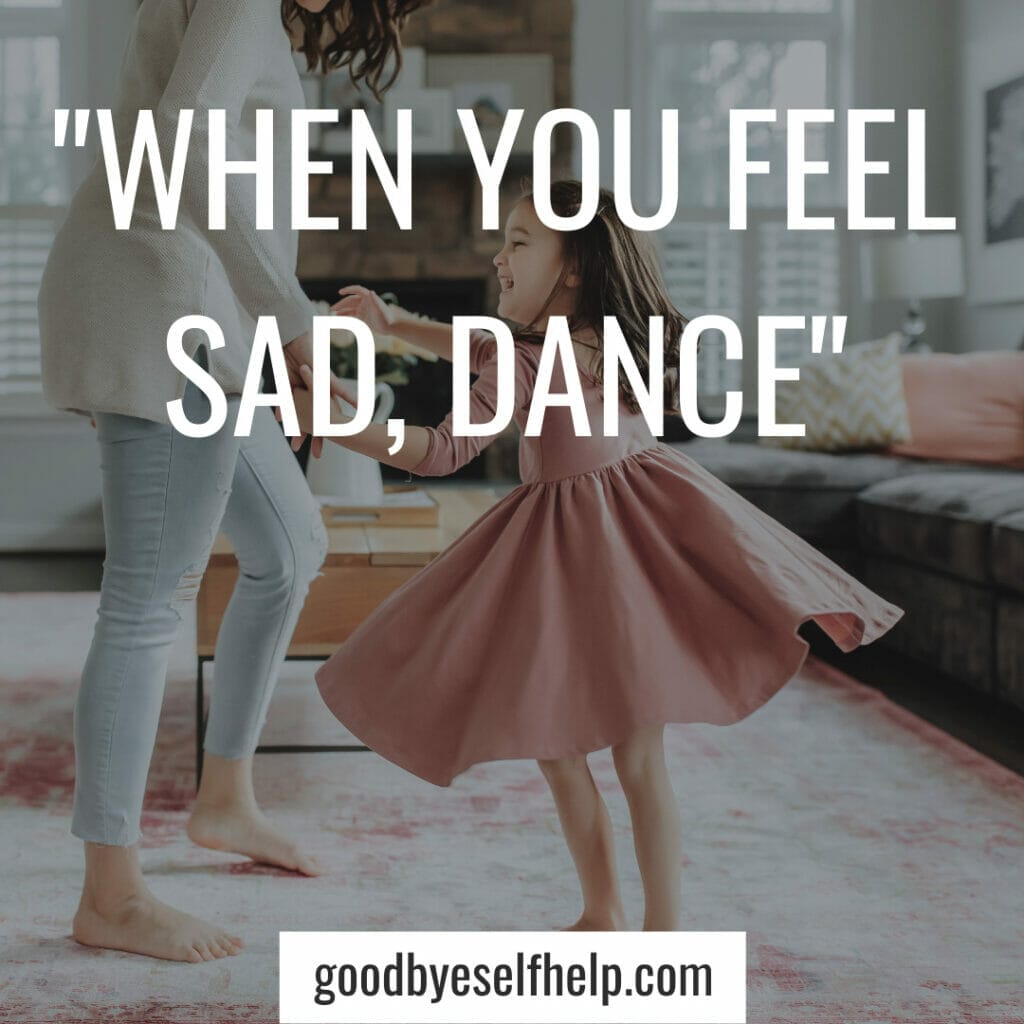 47. "Dance isn't just dance. It's magical. Something that sets you free."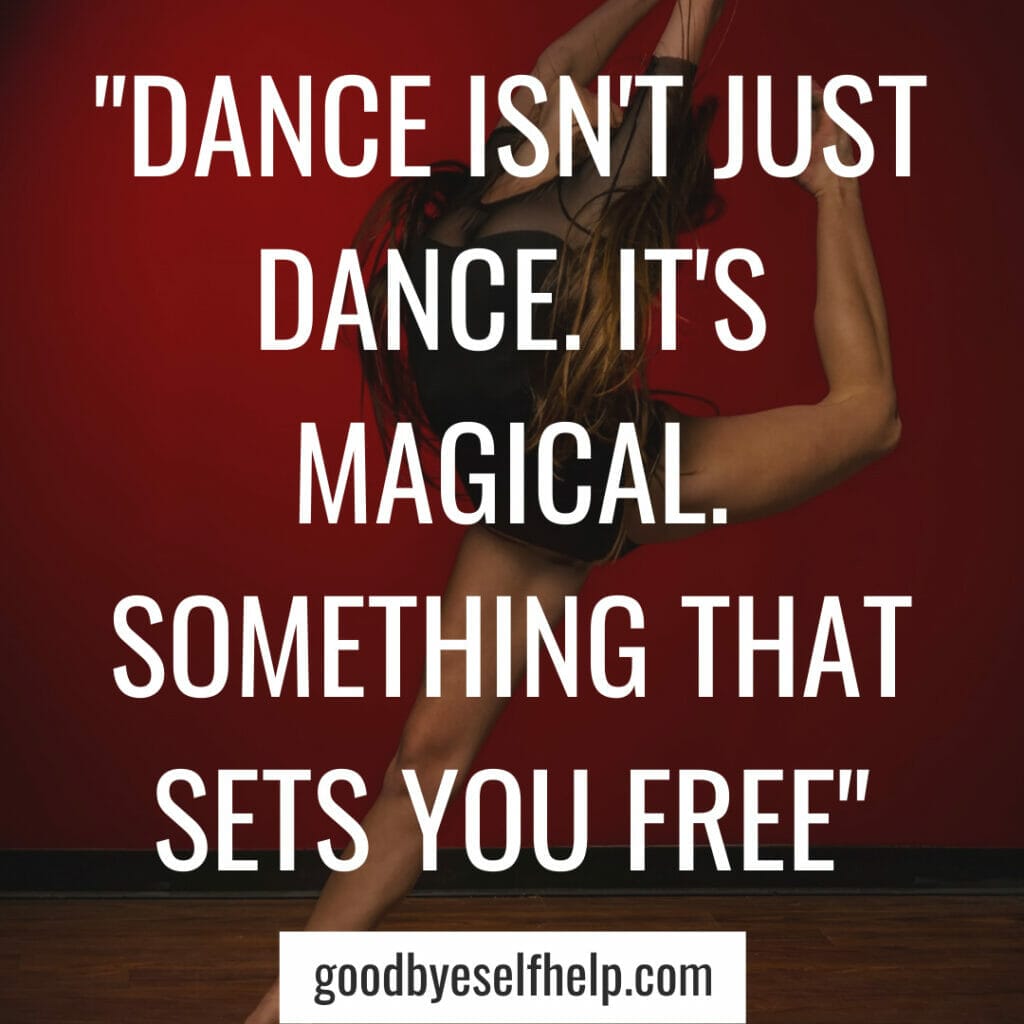 48. "Life is the most magnificent dance floor of love. Dance with love to feel the joy of life."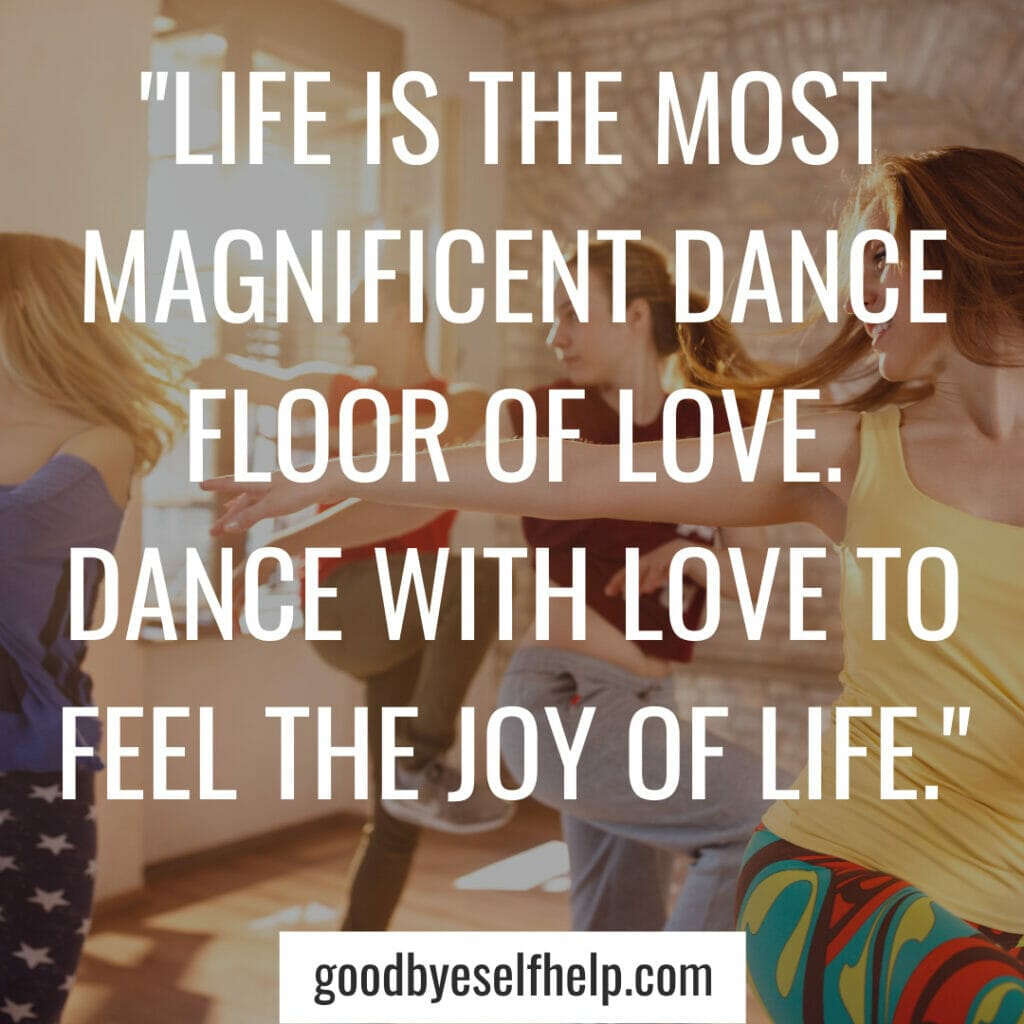 49. "Master technique and then forget about it and be natural."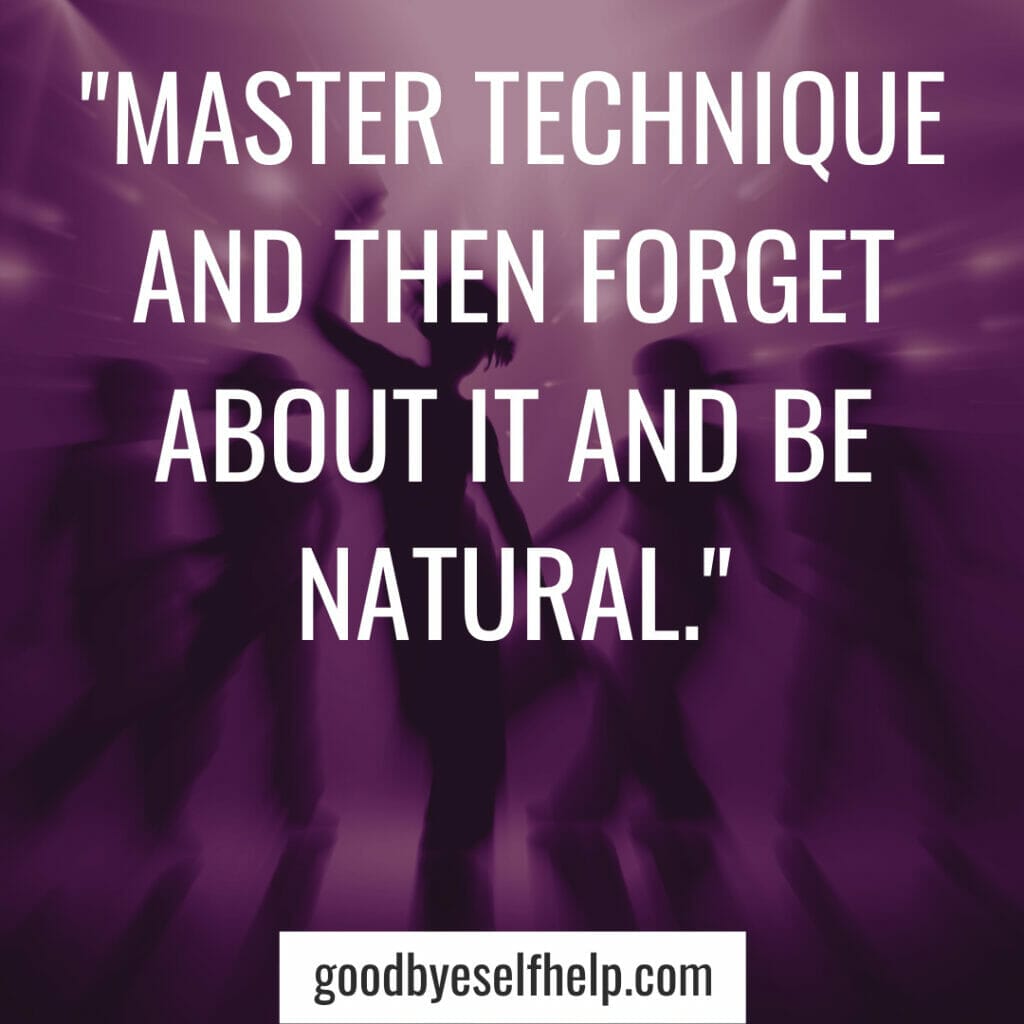 50. "Dance with your sacred rhythm."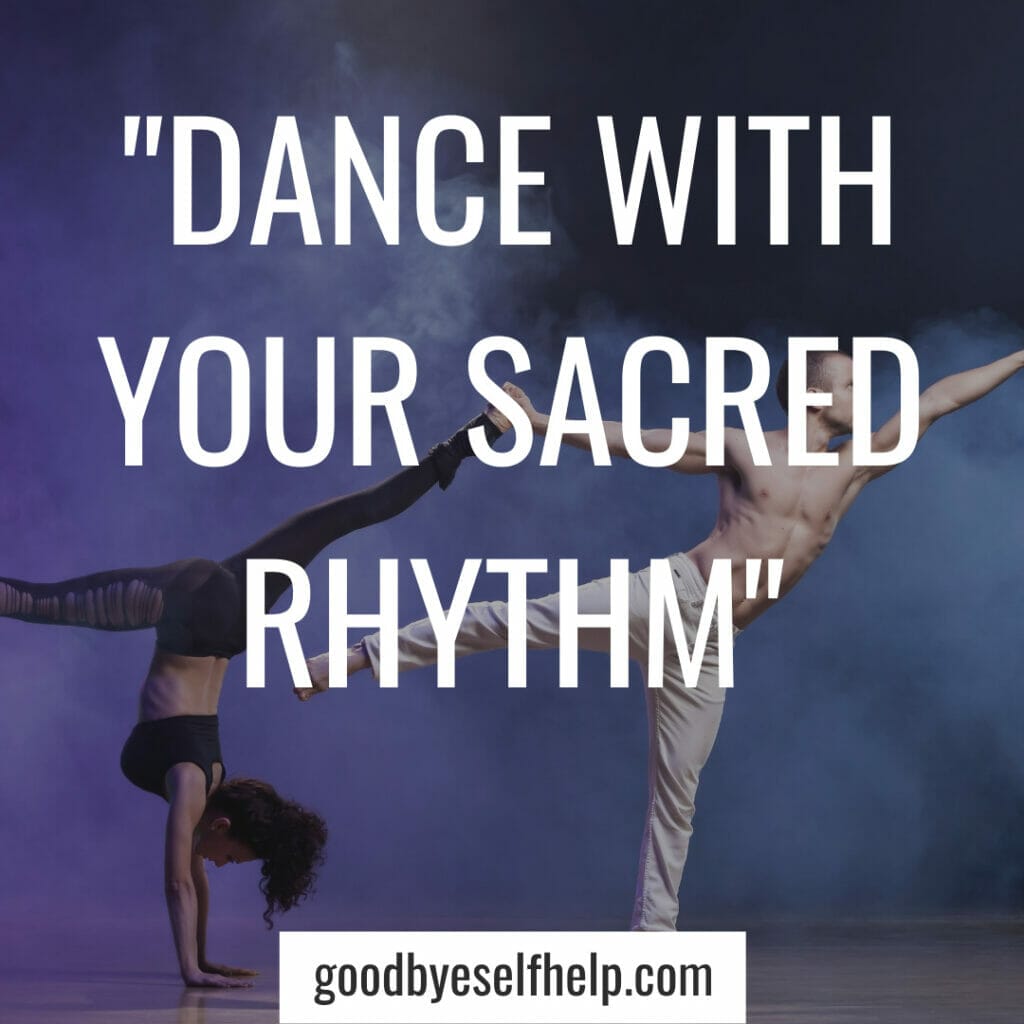 51. "Dancing is the child of music and love."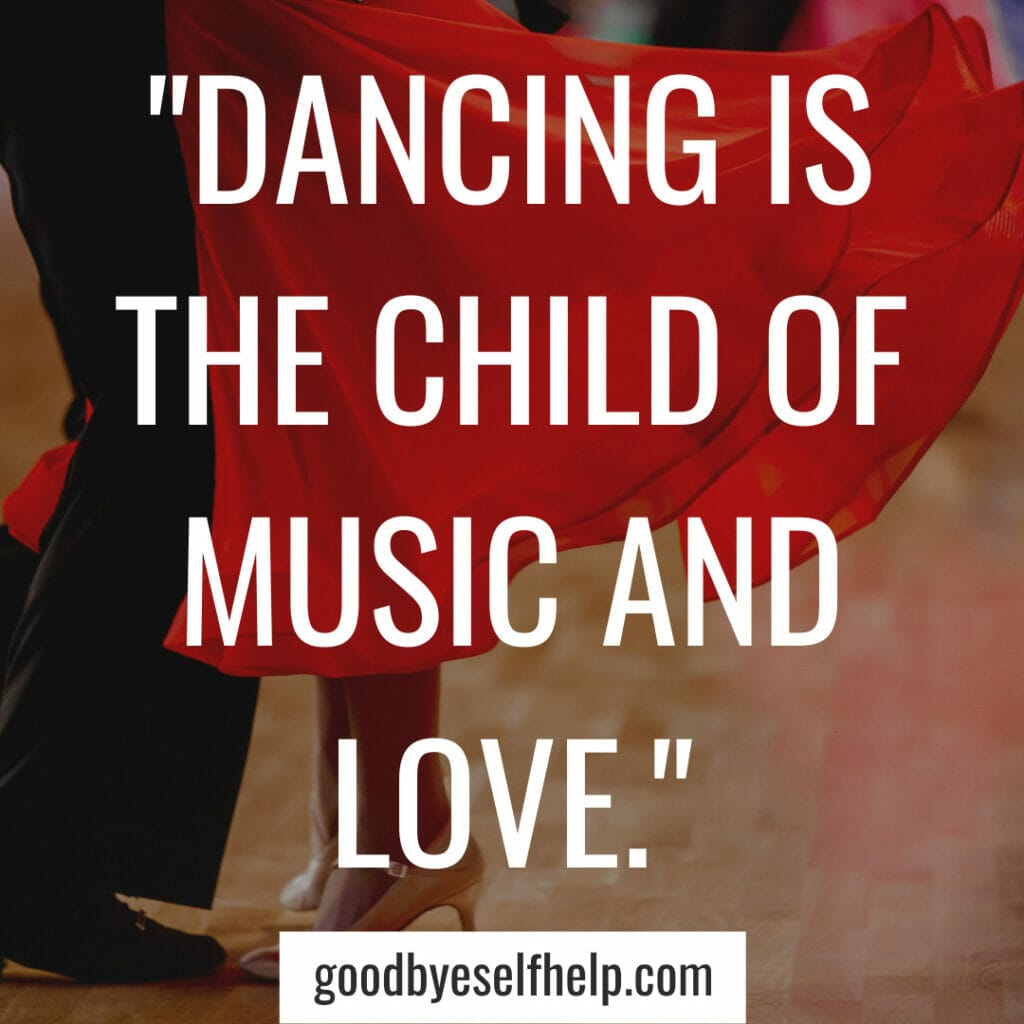 52. "He who cannot dance puts the blame on the floor."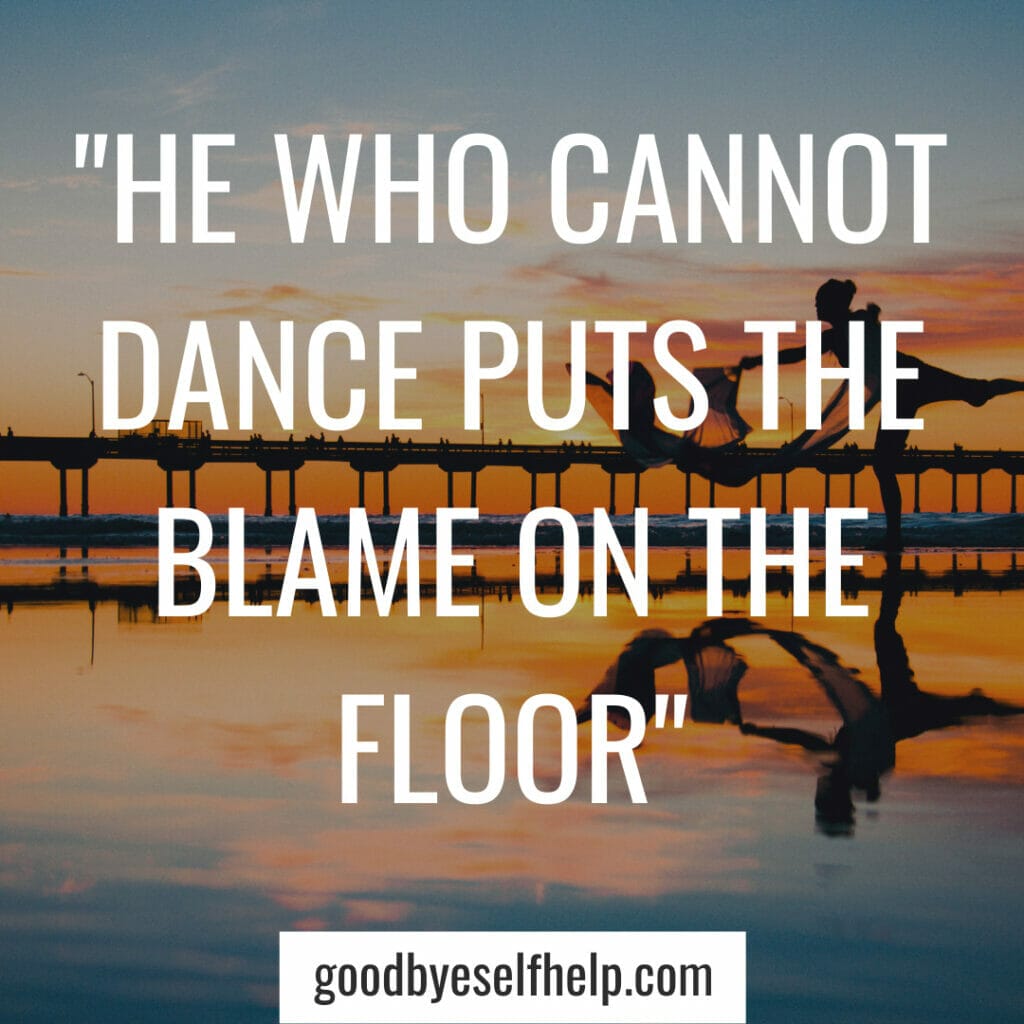 53. "And those who were seen dancing were thought to be insane by those who could not hear the music."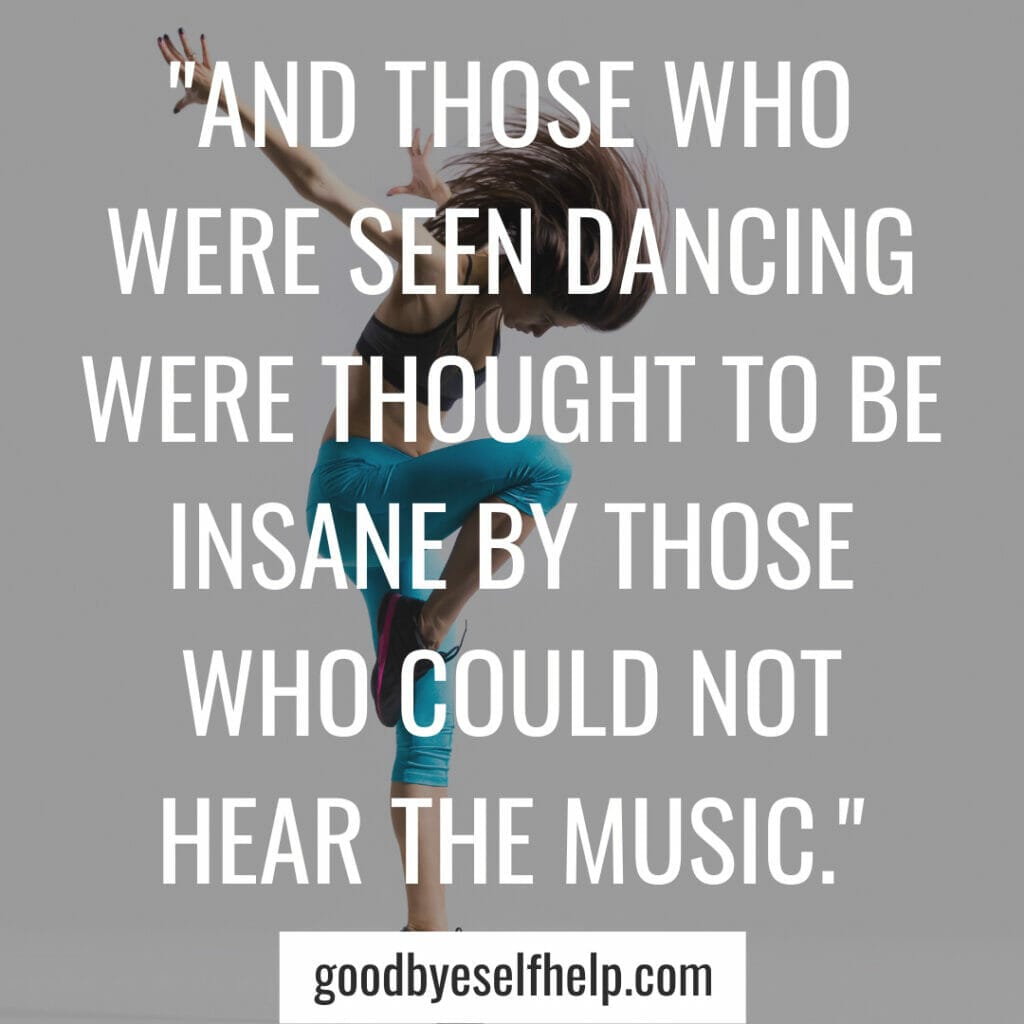 54. "Dance mode activated."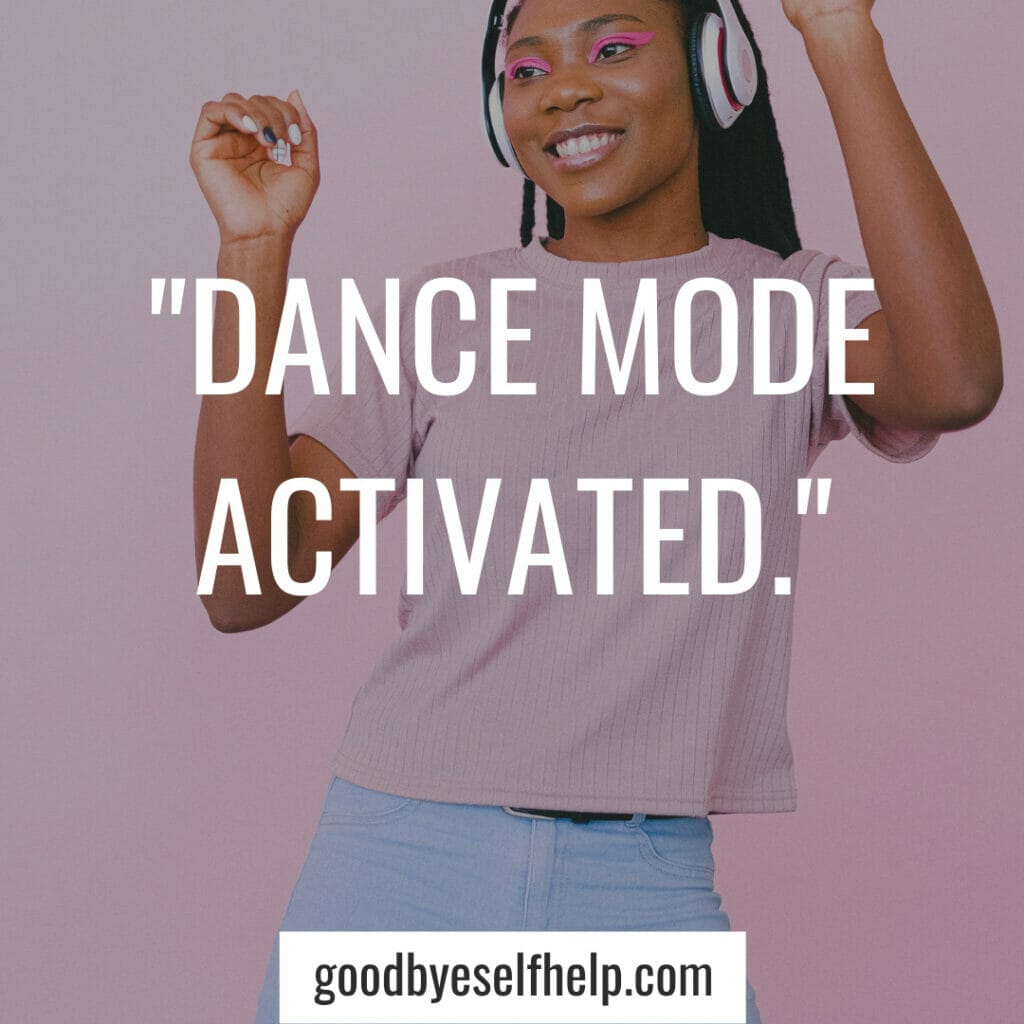 55. "Every day brings a chance for you to draw in a breath, kick off your shoes, and dance."
56. "Dancing is creating a sculpture that is visible only for a moment."
57. "Dance isn't just my hobby. It's a way of life."